'Ni no Kuni 2' Release Date Delay: Why 'Revenant Kingdom' won't launch this November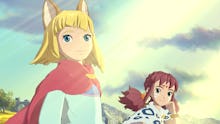 Ni no Kuni 2: Revenant Kingdom is going to take a while to reach gamers hungry for its unique brand of role-playing. Previously scheduled for a release this November, it's now been delayed to January 2018. If you were hoping to explore its bright and gorgeous anime-styled world, you'll have to wait just a little while longer. Good thing, too, because the end of the year is really starting to pile up with intriguing new releases and this is just another long and exhaustive adventure that was going to make things worse on time-crunched gamers.
Ni no Kuni 2: Revenant Kingdom: Delayed for additional work
As is usually the case with games that suffer delays, Ni no Kuni 2: Revenant Kingdom was delayed, according to game director Akihiro Hino, because the staff had decided that "more development time" is required to "deliver the full Ni no Kuni 2 experience," he said in a statement, according to Polygon.
In a new video, Hino also explained that, contrary to prior statements released via Bandai Namco, there will be no multiplayer mode. He stated that he had initially misunderstood the question when speaking on the game during E3 interviews, thinking it was about online content "in general" and he had spoken on online in-game events previously.
Ni no Kuni 2: Revenant Kingdom has been rescheduled for a January 19, 2018 release and will be heading to PlayStation 4 and PC.
More gaming news and updates
Check out the latest from Mic, like this essay about the sinister, subtle evils lurking in rural America that Far Cry 5 shouldn't ignore. Also, be sure to read our review of Tekken 7.