NRA "minions" troll Philando Castile supporters after Women's March protests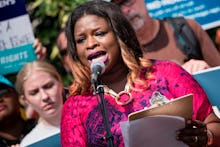 The National Rifle Association attacked Philando Castile demonstrators and activists via social media on Saturday instead of answering their call to join their outrage over the police shooting death of the Minnesota licensed gun owner.
NRA News and NRA TV released new videos on Thursday and Friday attacking the organizers behind the #NRA2DOJ demonstrations that took place on Friday and Saturday.
The demonstrations were planned by Women's March organizers Tamika Mallory, Linda Sarsour, and Carmen Perez to call out the NRA for not speaking out more about Castile's fatal shooting at the hands of former St. Anthony, Minnesota police officer Jeronimo Yanez on July 6, 2016.
About 500 Castile supporters participated in the Friday rally outside NRA headquarters before marching to the U.S. Department of Justice's offices on Capitol Hill, according to the organizers.
Another 1,500 people joined a vigil and rally outside the DOJ's offices on Saturday, organizers said.
"All we've seen is more of the same — silence on the issue," protest organizer Tamika Mallory told Mic via text message, "and more hateful and divisive rhetoric from their minions."
One of those "minions" is NRA spokeswoman Dana Loesch, who broke a year-long silence from the NRA on July 9, when she told Mallory and CNN that Castile's shooting death was "absolutely awful" and "completely unfortunate."
But Loesch lashed out at Mallory and her co-organizers on Thursday in a video shared via Twitter Saturday morning.
Loesch never mentions Castile's name in the video and doesn't address the Second Amendment issues raised by the #NRA2DOJ protest.
"How dare you accuse me of racism and sexism, and homophobia or whatever the hell other 'ism' or 'obia' you've invented to push your radical agenda," Loesch said in the video.
"Or should I say, 'daddy 'Farrakhan's' radical agenda," she added, taking issue with the NRA protest's feminist organizers and their apparent affiliation with controversial Nation of Islam minister Louis Farrakhan. (Loesch's video shows clips of Mallory praising the minister and Instagram posts of pics she took with him.)
"If you want to stop hate, start with daddy Farrakhan."
Meanwhile, NRA TV used its Twitter account Friday and Saturday to flood and attack the #NRA2DOJ hashtag.
Some of the videos it posted featured black gun rights supporters who apparently take issue with progressive demonstrators who they say have rioted in the streets since the election of President Donald Trump.
Castile had told Yanez that he was carrying a gun, for which he had a license, prior to being shot during a traffic stop. Castile's fiancee Diamond Reynolds and her four-year-old daughter were also in the car. Reynolds broadcasted the immediate aftermath of the incident on Facebook Live.
Yanez was found not guilty of manslaughter charges on June 16. He ended his employment with the Village of St. Anthony police in lieu of being fired on July 10 and received $48,500 in a severance agreement.
Mic reached out to the NRA for comment but did not immediately hear back from the group.
Correction: July 17, 2017