'Kingdom Hearts 3' Toy Story Trailer: Release date revealed and new world shown at D23 Expo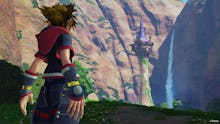 During Disney's D23 Expo today, there was a quick presentation and trailer that finally revealed some additional details about when and what we can expect from the upcoming Kingdom Hearts 3. It appears we'll have to wait just a little bit longer for the game to make its debut but not too much — at least there's a solid release date in mind this time around.
Kingdom Hearts 3 Toy Story Trailer: When the newest game is dropping
According to the presentation during the D23 livestream, it was announced that Kingdom Hearts 3 is coming in 2018. There wasn't a specific date mentioned, but a quick flash of a year at the end of some new footage that should at least sate fans' appetites for any delicious morsel of information coming forward from the game.
Additionally, the trailer showed off some footage of a Toy Story 3 world, featuring characters like Woody, Buzz Lightyear and a decidedly gorgeous outside environment. It's certainly a sight for sore eyes after a lack of KH3 announcements, and the toy-like changes made to Sora, Donald and Goofy you can see in the trailer are absolutely adorable.
So if you're looking for more from the Kingdom Hearts world, you've only got to wait until 2018 now. That should give you plenty of time to catch up on the lore and play through all of the prior series' installments. And then you should go and catch up with your Toy Story movies, too. It looks like that world's going to be a particularly awesome one.
More gaming news and updates
Check out the latest from Mic, like this essay about the sinister, subtle evils lurking in rural America that Far Cry 5 shouldn't ignore. Also, be sure to read our review of Tekken 7, an article about D.Va's influence on one Overwatch player's ideas about femininity and an analysis of gaming's racist habit of darkening villains' skin tones.