'Whose Streets?' film highlights Ferguson activists' battle with the trauma of protests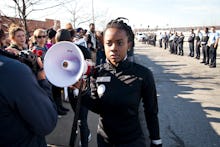 NEW YORK CITY — For Brittany Ferrell, it started with intense mood swings. Then there were tears over things she knew she couldn't change or control. Then one day, the 28-year-old mother of a 9-year-old couldn't will herself out of bed.
Ferrell, a racial justice activist in St. Louis, has been open about her own struggle with depression as a side effect of her activism. She helped lead protests in the days and months that followed the police shooting death of Michael Brown in Ferguson, Missouri. Those peaceful demonstrations, which happened alongside vandalism, looting and arson, were met with a heavy-handed and militarized response from law enforcement agencies.
"You sacrifice your comfort, your security," Ferrell says in the upcoming Magnolia Pictures documentary about the Ferguson protests, Whose Streets?. "You sacrifice everything to do this work." The film explores how Ferrell and other St. Louis-area residents dealt with the fallout of their demonstrations, even after most national news outlets left Ferguson to cover other flashpoints in the Black Lives Matter movement. The documentary premiered at the Sundance Film Festival in February and will open in theaters nationwide on Aug. 11.
The protests over Brown's death helped enlarge the influence of BLM and sparked a national conversation about police violence in black communities. But Ferrell and other organizers at the center of the Ferguson uprising still battle the trauma and other psychological effects of the tear-gassing, the firing of rubber bullets and grenades and the arrests at protests.
Researchers have linked the experience of subtle and overt racism to an increased prevalence of post traumatic stress disorder in communities of color. To sustain their pursuit of justice and systemic reforms, the community must do a better job of ensuring frontline activists maintain their physical and mental wellness, Ferrell said.
"I really want people to understand the effect that racism and white supremacy has on people fighting for the right to live," Ferrell said in a phone interview. "I think, right now, there are folks who will call and check in. But as far as the emotional and mental help, it could be better."
Whose Streets? opens with clips of residents reacting in the hours after former Ferguson police Officer Darren Wilson shot and killed Brown, an unarmed black teenager, in broad daylight and in the middle of a residential street. Peaceful protest and civil unrest followed nearly every major development in the case for over a year, from the police department's choice to demonize Brown as officials released Wilson's name to a grand jury declining to criminally indict Wilson. Ferrell, her partner Alexis Templeton, Tef Poe, Kayla Reed, Johnetta Elzie and other local protesters became known fixtures of the demonstrations.
But the human cost of protesting for those on the frontline hasn't received as much attention — and it has only been discussed tangentially after the deaths of two well-known Ferguson protesters, Darren Seals and Edward Crawford. The young men died under circumstances that authorities have said suggest intentional homicide and suicide, respectively.
Damon Davis, a St. Louis filmmaker who co-directed Whose Streets? with Los Angeles filmmaker and activist Sabaah Folayan, said he knew of more Ferguson protesters who have since died due to violence or other circumstances. The local activists Davis followed in the documentary often name sleep loss and emotional volatility as persistent wellness issues post-uprising, he said.
"Everybody that I know is not unscathed," Davis said after a July 10 screening of the film in New York City. "Everybody that I know is carrying something. And I do check in. I check in with people because, when I see [them], they are like lifelong friends to me … All we can do is lean on each other."
Ferrell said she has been on anti-depressants and has seen a therapist regularly since early 2016. Ferrell's partner and mother realized she wasn't herself — she'd stopped being as attentive to her daughter, Kenna, and had been further traumatized by the police-involved deaths of black men and women that followed Brown's.
"I had a mental breakdown," Ferrell said. "I quit organizing. I had to take time off of work. I was unable to move. Initially, I didn't think to go see a doctor."
At the time, Ferrell was in nursing school and was getting serious about her relationship with her partner. Whose Streets? shows a clear and nearly constant police use of force against Ferguson demonstrators, a reality that overwhelmed many protest organizers, Ferrell said.
But pressure ratcheted up following Ferrell's August 2015 arrest at a protest on Interstate 70 in Missouri. She had been accused of kicking an SUV that plowed its way through a line of protesters blocking the highway. She faced felony first-degree property damage and up to four years in prison. Ultimately, Ferrell received probation and went on to finish nursing school.
Ferrell doesn't believe she would have made it through that period of her life without the professional counseling and a circle of support from family and other activists, she said. "The burden of the world is not for us to carry alone, and there are others who can carry the weight with you," she said in the interview. "This is a marathon."
According to Psychology Today, recent studies of racial discrimination and psychopathology in people of color have found blacks experience significantly more instances of discrimination when compared to Asian-Americans and Hispanic-Americans. As a result, blacks were more likely to experience the symptoms of PTSD due to race-based trauma, including depression, hyper-vigilance, anger, loss of appetite, apathy, avoidance symptoms and emotional numbing.
Studies have not directly linked the act of protesting racial injustice or violent responses of police to demonstrations to PTSD. Ferrell said she hopes Whose Streets? changes the "distorted view" that activists aren't taking mortal risks when they confront their governments.
"I would say if you know anyone doing activism, check in on them because it takes a toll," Ferrell said. "We kind of owe that to one another."