The 3 best wedding ideas — to save money but still show your guests the time of their lives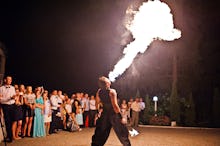 Wedding planning — and spending — is not for the weak. Aside from the whole "joining your life to another's until death," you have to throw the biggest party of your life that pleases your new spouse and family, fits into your budget and is actually fun for your guests. Not an easy task!
Pinterest images, wedding blogs and television shows can set unrealistic expectations. Take Tom and Katie from "Vanderpump Rules," who got married in a forest dripping with flowers for around $51,000, the cost reported by E! News. Images like these show couples going as big as they can to make their wedding more memorable than the last. At least in theory, the splashy decor, music and activities are meant to dazzle guests. Right?
"Couples are personalizing big time — the wedding celebration is their first big statement, so to speak, as a married couple," Lauren Kay, deputy editor for the Knot, said in an email interview. "Guest enjoyment and entertainment is a huge part of that. To-be-weds want to share things that are unique to them and will have a lasting impact on their guests. In an effort to stand out, couples are splurging on things like photo booths, games, musical performances and even unexpected entertainment like acrobats and live painters."
Yet one has to wonder: Is any of that cash going to waste? Delicious food and great music are one thing. But are your friends and distant relatives really going to feel joy because of the embossing and handwritten calligraphy on your invitations? Are they going to have a better time because of a giant ice sculpture, outfit changes or your name projected in lights? Will they even use those gift-bag koozies emblazoned with your faces?
They definitely won't if they can't even get a seat at the wedding. According to the Knot's 2016 Real Weddings Study, couples are so focused on the "wedding experience" that they're slashing guest lists to accommodate their vision. The average number of wedding guests dropped from 149 in 2009 to 141 in 2016, but the cost per wedding guest is up to $245 — compared to $194 in 2009.
So, how can you strike the right balance, plan a wedding that makes you happy, lets you invite all the people you love — and is actually enjoyable for your guests? While you should resist trying to "keep up" with other weddings, you'll still want to put a special mark on your big day.
Never fear. Here are three big ways you can add personal flair to your nuptials without dropping a ton of dough.
1. Focus on your top three priorities.
Everyone is different, and while some would be fine using Paperless Post and serving donuts, others might be horrified by anything short of snail mail invites and classic wedding cake. That's OK! The key, though, is picking your battles.
To stay focused and on budget, home in on your three most-desired wedding features, Meg Keene, founder and editor-in-chief of A Practical Wedding, said in a phone interview. "Identify the top three things that are most important to you and stick to those priorities, especially when you get in deep with wedding planning," she said.
Newlywed Erica Dunaway of Jacksonville, Florida, told Mic that flowers, an open bar and good food were top priorities for her April wedding.
"I wanted a wedding filled with lush greenery and flowers, so making sure the flowers were perfect was high on my list," Dunaway said. "Also, I work in the bar business, so I wanted to have an open bar. I also didn't like having everyone stuck at a table for a sit-down dinner, so we did chef-manned food stations instead. You could customize your own pasta or seafood paella, for example."
For her own nuptials, the Knot's Kay said her non-negotiable was her wedding stationary. "I wanted really gorgeous stationary and my husband had his heart set on a live band," she said. "So we devoted more than the average spend in those categories and scaled back in others to stay on budget."
Need more ideas to make your day special? You're not alone: 75% of couples have at least one "signature wedding" element, according to the Knot's survey, up from 66% in 2008. This includes a special cocktail (24%), photo booths (78%), games (18%), musical performances (12%) and fireworks (8%). Just remember to pick your three splurges carefully and prepare to cut back on other expenses using savings hacks like these.
2. Burn your Pinterest board and get real.
While there's nothing wrong with having a "dream" wedding board, you'll eventually have to come down off your cloud and back down to reality, Keene said.
"I suggest that for every dream Pinterest board you create, you design another one that is based more in reality," Keene advised. "There's a tremendous difference between your dream wedding and the actual wedding. While there's nothing wrong with pinning these tantalizing pictures, once you price things out you'll probably be floored to find out the actual costs."
Plus, money is not the only practical matter to consider. Think carefully about how your nuptials will be experienced from your guests' perspectives. Seemingly great ideas don't always hold up in reality: If bottles of wine you're giving out as favors at your destination wedding won't fit (or pass TSA muster) in carry-on luggage, for example, they might not be the best choice.
When all else fails, keep it simple: Stay true to the theme and what you want from your wedding, Keene added. "I remember going to a friend's wedding who had a '50s-style band," she said. The band set a festive mood for guests, making other elements, like favors or an expensive cake, feel less necessary.
One move to avoid? Trying to replicate an expensive wedding for less, Keene said. Just because Nicole Kidman and Keith Urban gave away Tiffany desk clocks as wedding favors doesn't mean you should troll a discount site for something similar. "Not only is trying to replicate an expensive wedding incredibly stressful, everything ends up looking half done," Keene said. "You are better off just identifying the top three priorities you have for your big day and then getting rid of the rest."
3. Entertain guests from the heart.
Staying true to your roots and sharing your love versus trying to "impress" is the best way to go. "I like that weddings can be a chance for couples to express themselves, especially since marriages bring together two different families, perhaps from two different worlds," Claire Stewart, assistant professor of hospitality management at City Tech, CUNY in New York, told Brides. "I always enjoy it when someone wants to share part of their upbringing, such as with a certain food native to their hometown or country, or chooses to serve a special food because of family memories."
If you play an instrument, you could always introduce an original song or jam with the band to spice up the party. Of course, you'll want to steer clear of a karaoke-type collaboration after far too many cocktails — or of being overly dramatic with your performance, Brides advised.
Thinking of giving out party favors? Aim for something useful, unusual and, ideally, personal. "Be more original than candy bars," Luxe Event Productions' Misty Damico told GQ. "Feeding your guests chicken and candy to say, 'Thanks for coming to our wedding'? It's not a 10-year-old's birthday party."
One smart move, if it applies, is to feature your creative side hustle, which is what Dunaway did for her wedding. In addition to working in the bar business, she is also the owner of apparel company Soul Salt Crochet Co. As party favors, Dunaway hand-crocheted nearly 130 hats costing roughly $3 apiece, which added a unique, personal touch to her beach-inspired wedding.
Functional handmade favors like Dunaway's end up being memorable keepsakes and show that you threw some love — not just money — into your guests' experience. And there's nothing more priceless than that.
Sign up for the Payoff — your weekly crash course on how to live your best financial life. Additionally, for all your burning money questions, check out Mic's credit, savings, career, investing and health care hubs for more information — that pays off.