Apple's new emojis were just announced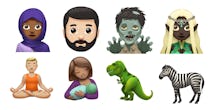 At last, we'll finally get those genie-in-a-bottle and ham-and-cheese sandwich emojis we've been longing for.
Apple just announced it will release a new set of emojis later in 2017, but did not disclose when, exactly, we'll be getting simple image-based ways to say "mind blown" or "I'm breastfeeding right now."
Apple CEO Tim Cook tweeted the announcement in honor of World Emoji Day on Monday.
The additions include a bearded man, a woman wearing a headscarf, a T-Rex, a zombie, half a coconut, a zebra and an elf.
The Verge speculated the emojis would be made available for the anticipated iOS11 and MacOS High Sierra updates in the fall. In the meantime, we'll have to deal with the current supply.