Wedding dress go missing? 7 steps to save the day if your photographer, venue or other vendor is MIA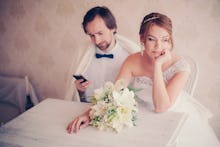 No one wants to anticipate that their wedding photographer, florist or DJ could be a no-show on the big day. Alas, sometimes it's not the bride or groom, but a vendor who "leaves you at the altar" ahead of or on your wedding day.
Indeed, when I married my husband in the early 1990s — before the advent of social media and online reviews — I was left without photographs of my wedding. The photographer had showed up and taken thousands of pictures, but then went missing post-nuptials! Luckily for me, my enterprising mother was persistent and managed to eventually snag those images — after a great deal of phone calls — but I was one of the fortunate ones.
Alas, it's not always so simple to resolve a problem with an errant wedding vendor, particularly if the company simply goes out of business. That's what recently happened to customers of wedding dress retailer Alfred Angelo, as NPR reported. Several brides who had pre-ordered dresses from the business, which filed for bankruptcy on July 14, were able to run over and snag their dress before the store shuttered for good, but other unlucky brides have been left hanging. In addition to the bankruptcy, the Delray Beach-based retailer is also facing an eviction action, according to the South Florida Business Journal.
It's not just photos or dresses that go MIA: Some brides have reported being left without a ride from the church to the reception, or that their special wedding entertainment bailed mid-ceremony. While anticipating that the sky is going to fall is no way to plan a wedding, it's always a good idea to prepare a Plan B so as to avoid a total meltdown on your wedding day or honeymoon.
First and foremost: Stay positive, wedding expert Anne Chertoff said in a phone interview: "Although you may hear the stories, its very rare for something like this to happen and almost unheard of for the mishap to be something malicious. The majority of people who work in the wedding business want to make sure the couple has a wonderful experience."
Still, while being blown off by your vendor might be uncommon, Chertoff noted a few easy steps couples can take to avoid last-minute chaos. Here's how to prepare for the worst while expecting the best.
1. Lean on referrals, reviews and ratings
If you are still shopping around, ask friends and family members if they can recommend a wedding vendor and ask about their experience, the Better Business Bureau advises. Always check out pictures if possible, read review websites and check the vendors' ratings. Also, refer to the BBB's website to see if there are any unresolved complaints against a given vendor.
WeddingWire is another reputable destination for reviews. "WeddingWire is a place where you can write an honest review, whether you've had a positive or negative experience," Chertoff said. Reviews can make or break a business, so if there was a misunderstanding or an honest mistake, the vendor can respond to try and remedy the situation.
Of course, a business that gets great reviews can still end up disappointing you, which is why you'll need to take further steps to protect your wedding — and wallet.
2. Make sure you or your vendor has backup
Accidents happen, so make sure you or your vendor has a Plan B. "Your wedding photographer could be playing with his son in the backyard and breaks his arm, so he can't shoot your wedding, or there's a death in the vendor's family," Chertoff said. "In the event something happens, it's up to the couple to ask ahead of time about the vendor's backup plan. They should have a partner who can step in immediately should something go wrong."
While most vendors will say they always come through for every wedding, press for reassurance that there is a back-up plan or person, Chertoff advised. "Obtain the person's name, email and phone numbers so, in the event your main vendor can't make it, you can contact the backup." In some cases, the vendor will work with another partner company, so get the backup company's website, contact person, email and phone number. You shouldn't be charged extra if the backup company has to spring into action, she said.
Plus, other vendors will often want to help if your vendor is no longer available, Chertoff noted: "In the case of Alfred Angelo, other national and mom-and-pop bridal companies sprung into action, offering big discounts to anyone who purchased a dress at Alfred Angelo and did not receive it," she said.
Similarly, back in 2014, when Brooklyn, New York, wedding venue ReBar shuttered without warning, other restaurants offered couples left in the lurch discounted prices to use their space.
3. Get everything in writing
As with any business agreement, scrutinize the contract to ensure you understand the details — as well as the cancellation policy, the BBB writes. And while a contract is imperative, there are certain red flags to be aware of, as noted by Brides: These include clauses that prohibit you from reviewing the vendor post-wedding, a minimum quotas for guests necessary to the agreed-upon pricing, date or detail typos, and extreme cancellation policies.
If you make changes to the contract by phone, be sure you then confirm them in writing, Chertoff warned. When a change is discussed and agreed to over the phone or in person, it must be reiterated somehow in writing, either through email or within the contract itself.
Also, as Brides advised, you'll need to review and re-review the contact details. If you asked the baker to include your last name on the wedding cake and the name is misspelled on the contract, for example, make the change while you can. If you miss the error, your baker may not be able to fix it in time.
4. Pay with a credit card
It's always wise to pay for deposits with a credit card, rather than cash or debit, because if the vendor doesn't adhere to the contract, you have more leverage to get a refund, according to CreditCards.com. You have up to 60 days to dispute the charges, which allows you to temporarily withhold payment until the conflict is resolved.
Some expenses that should always get slapped on plastic include deposits, wedding planner fees, services expected for the day of the wedding, the dress, anything you purchase online and travel expenses. If the vendor refuses to accept payment by credit card: run, Chertoff said. "You probably don't want to do business with a vendor who only accepts cash or a wire transfer."
5. Consider wedding insurance
You could add another layer of protection by purchasing wedding insurance, which covers a slew of "what if's" like vendor no-shows, travel delays, military deployments and more, according to the BBB. While you'll likely be suffering from wedding expense fatigue, the extra protection may be worth the cost.
"Before you agree to wedding insurance, make sure you review the contract and understand the type of coverage you are receiving," Chertoff said. "Some may cover military deployment or if a hurricane hits and your venue is flooded. In the event your wedding is at a venue that allows you to bring your own liquor, you may need coverage in case Uncle Tony gets a little too happy and breaks his ankle and the venue's table while dancing on the table." Wedding insurance can cost anywhere from about $120 to $600, she estimated.
6. Establish a go-to person to handle wedding day snafus
Sometimes things go south on your big day and the last thing you want is to turn into a bridezilla — or groomzilla — because the florist doesn't show. "Problems on your wedding day should not be the bride or mother's responsibility," Chertoff said. "Have a separate person, even a one-day wedding coordinator or venue manager, to handle any 'day of' issues."
In the event someone doesn't show up or is late, check with the other vendors at your site. "Oftentimes vendors know other people not only within their area but throughout the industry," Chertoff said. "It's not uncommon for a florist to know a good baker, for instance." She adds if you visit WeddingWire, you can find a bevy of vendors within your geographic location. "It may only take a few phone calls to have someone to replace that missing vendor."
7. Have a plan for recourse
While most of the time vendors respond quickly to remedy the situation, there are those uncommon occasions where the vendor goes belly up — or is just missing in action on the big day. Of course, your first step should be to try to resolve the issue with the vendor, but if you've given them enough time to respond, you may need to go further to get the vendor's attention.
One direction you can take is to alert the media. "Use the power of the press, such as your local news station," Chertoff said. "You could also get the vendor's attention by leaving an honest but, if necessary, negative review." If all else fails, small claims court is another avenue, she added. Here is Mic's guide to finding a lawyer, if you decide you want to take legal action.
Finally, just remember to try to take everything in stride. Snafus are inevitable, so focus on the meaning of your wedding day. Years down the road, your wedding mishaps will be a small detail — perhaps even a funny story — outshone by the life you've built with the one you love.
Sign up for the Payoff — your weekly crash course on how to live your best financial life. Additionally, for all your burning money questions, check out Mic's credit, savings, career, investing and health care hubs for more information — that pays off.