Ray Tensing Murder Trial: Prosecutor decides he will not try Ohio police officer for third time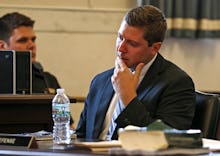 Former University of Cincinnati police officer Ray Tensing has been tried not once, but twice for murder and voluntary manslaughter in the 2015 shooting death of an unarmed black man. But he will not be tried a third time, an Ohio prosecutor announced Tuesday.
Hamilton County prosecutor Joe Deters said Tuesday that he has not changed his opinion that Tensing committed murder when he shot and killed Sam DuBose, the unarmed black motorist, exactly two years ago Wednesday. However, after polling jurors from a previous trial, Deters left unconvinced that he could get a conviction in a third attempt.
"After discussing this matter with multiple jurors, both black and white, they have ... said to us that we will never be able to get a conviction in this case," Deters said during a press conference in Cincinnati. "I don't like it."
Deters informed the DuBose family of this decision, and "needless to say they are very upset," he told a room of assembled journalists. Terina Allen, Sam DuBose's sister, did not hold back in expressing anger, after Deters announced his decision.
"Since we've got more racists in Hamilton County than not, we basically can't get a conviction — that's what we were told," Allen told reporters outside of the prosecutor's office on Tuesday. "If that is the standard, then we're all doomed."
The only issue that left jurors deadlocked was "whether or not the actions of Ray Tensing were justified," Deters added. The prosecutor seemed also to blame political polarization for the lack of conviction.
"The division in this country is profound," Deters said in the press conference. "This goes both ways hard. And in this case we have jurors who will not vote to convict a police officer. And when we indicted Tensing, we believed we would be successful, otherwise I would not have done it."
Tensing, who is white, shot and killed DuBose during a traffic stop over a missing front license plate, on July 19, 2015. Tensing's body camera caught the shooting — and footage contradicts Tensing's claim that DuBose drove off and dragged the officer in an attempt to get away.
(Editor's note: The following video contains graphic images.)
A grand jury first indicted Tensing in 2015 on charges of murder and voluntary manslaughter. After a mistrial was declared in 2016, Deters announced that Tensing would be retried on the same charges.
At the conclusion of a two-week trial in June, jurors still could not reach a unanimous verdict. Hamilton County judge Leslie Ghiz declared a second mistrial on June 23.
Police officer trials have been closely watched, in part, as a measure of the strength of the Black Lives Matter movement that has rallied around the shooting deaths of African-Americans. The summer kicked off with a string of non-convictions in high-profile cases: the acquittal of Milwaukee police officer Dominique Heaggan-Brown, who shot and killed Sylville Smith in August 2016; the acquittal of St. Anthony, Minnesota, police officer Jeronimo Yanez, who fatally shot Philando Castile in July 2016; and the acquittal of Tulsa, Oklahoma, police officer Betty Jo Shelby of the September 2016 fatal shooting of Terence Crutcher.
Even with the odds of a conviction seemingly against them, civil rights leaders and other voices in the Cincinnati community had called for a third trial against Tensing, WCPO-TV reported. In lieu of justice, Allen, Sam DuBose's sister, vowed that she would never allow the community to forget what Tensing got away with.
"I'm going to be on Tensing's back for the rest of his life," she said. "I'm going to make sure people know that Tensing is a murderer. Tomorrow will be two years [since the shooting] and they just going to let this man go free? What does that say about Ohio?"
July 18, 2017, 1:45 p.m. Eastern: This story has been updated.