'Destiny 2' Weapon Mods: What to know about upcoming customization options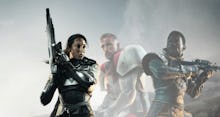 Destiny 2 may not be releasing until September, but you can access the Destiny 2 beta right now if you've preordered the game — or gotten a key through other means. When the game touches down on PlayStation 4, Xbox One and PC, it'll be utilizing several different weapon slots like kinetic, energy and power instead of the original Destiny's primary, secondary and heavy slots. Some of the ones you may remember have been altered to be power weapons now, too. There are a lot of changes coming down the pipeline, so what is there to expect further down the road? Here's an idea.
Destiny 2 Weapon Mods: What's coming to the full game
One of the issues fans consistently complained about in the original Destiny was the lack of customization for your character or your weapons. Bungie is looking to change this in Destiny 2, as one redditor has pointed out. The user, EireneRR4, was able to glean some information from the Destiny 2 Beta Experience, including the fact that legendary guns in the game will have several different mods and shaders that allow players to make them their own.
According to EireneRR4, there will be several empty slots with the weapons, which seems to mean you can include additional colors and powers for said slots and additional power-ups found in the game. This all took place before the official beta launch, though. More information is certainly about to come out of the game as players dive in. As we find out more information we'll be bringing it to you.
Destiny 2 is launching on Sept. 6, but you can check out the beta now if you've got a code.
More Destiny 2 news and updates
If you can't wait to get back out on patrol with your Fireteam, check out the rest of our coverage for Destiny 2. We've got coverage about why Bungie opted not to use dedicated servers for the sequel, why there won't be cross-play and cross-saves for PC and what you can expect from the game's PC specs and Battle.net partnership. Additionally, you can check out the new Supers being added to the game, some details behind guided games and the new Crucible changes as well. Finally, you can check out our ongoing coverage of the beta here.