Robert Mueller is now investigating the Donald Trump Jr. Russia meeting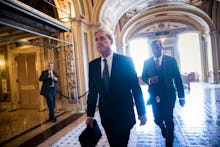 Former FBI Director Robert Mueller, who was appointed special counsel to investigate alleged ties between Russia and President Donald Trump's campaign after Trump fired former FBI Director James Comey in May, is looking into a July 2016 meeting between Donald Trump Jr. and Kremlin-linked lawyer Natalia Veselnitskaya, the Washington Post reported Tuesday.
Present at the meeting were Trump Jr.; Veselnitskaya; Jared Kushner, Trump's son-in-law and now-senior adviser; Paul Manafort, Trump's campaign manager at the time; Anatoli Samochornov, a former State Department employee and translator; and Rinat Akhmetshin, a former Soviet spy and lobbyist who opposes the Magnitsky Act.
An eighth person, Ike Kaveladze, also attended the meeting, the Post first reported Tuesday. Kaveladze represented Aras Agalarov, a Russian real estate mogul who hosted the Trump-owned Miss Universe pageant in Moscow in 2013. His son, Russian pop star Emin Agalarov, was also present at the meeting arranged by music promoter Rob Goldstone.
Though it was already rumored Mueller was investigating Trump Jr., Scott Balber — a lawyer for the Agalarovs — confirmed to the Post he had been contacted by a representative of Mueller over the weekend to confirm Kaveladze's identity, the first solid proof that Mueller is looking into the meeting.
News that the president's son met with a lawyer who claimed to represent the Kremlin and who promised dirt on his father's presidential rival reignited long-burning speculation that the president colluded with the Russian government to affect the outcome of the 2016 presidential election.
Some legal experts argued that Trump Jr.'s solicitation of dirt on Hillary Clinton from a foreign national could have broken election laws. Meanwhile, some Trump opponents, including Sen. Tim Kaine (D-Va.), accused Trump Jr. of "perjury, false statements and even potentially treason."
Following these revelations, Trump came to his son's defense, calling him a "high-quality person" and arguing that "Most politicians would have gone to a meeting like the one [Trump Jr.] attended in order to get info on an opponent."