'Titanfall 2' Frontier Defense DLC: Horde mode co-op coming soon as a free update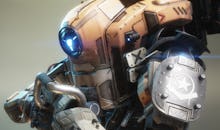 There's some new downloadable content coming to Titanfall 2, and it's bringing a new mode called Frontier Defense with it. Essentially, it's akin to the "horde mode" so many other titles have introduced over the years, where you can play cooperatively with other players to take down waves of automated enemies as they strengthen over levels. It's being released on July 25, and it'll be free for all Titanfall 2 players. So if you were hoping to see more out of the game in the future and didn't want to spend any additional money on it, this is a pretty helpful scenario.
Titanfall 2 Horde Mode: What to expect from the free Frontier Defense DLC
Developer Respawn announced Tuesday that Frontier Defense is coming to the game as a free four-player co-op mode that will include Titans, much like the Frontier Defense mode that you could play in the original Titanfall.
Across five waves of enemies, you'll collect cash to spend on unlockables to make your team even stronger — much like what happens in Call of Duty: Zombies or Gears of War's Horde mode. There are five levels of difficulty to ensure players of all skill levels get a chance to feel awesome, and even a Titan progression system to keep you leveling your Titan further.
There are two maps included with the package: a remastered map from the original Titanfall called Rise, as well as Township, which is a new map for the Pilot vs. Pilot mode Live Fire. If cosmetic upgrades are more your speed, you'll be able to pick up new Elite Warpaints to change up your Titan's look and pack a 10% chance for double XP at the end of matches.
You can get them all in a special bundle up until Aug. 28, when you'll have to buy them all separately. If you were looking for a good reason to go back to Titanfall 2 for a little while as you wait for all the games getting dropping in the fall, this should tide you over for a little bit.
More gaming news and updates
Check out the latest from Mic, like this essay about the sinister, subtle evils lurking in rural America that Far Cry 5 shouldn't ignore. Also, be sure to read our review of Tekken 7.