'Life is Strange: Before the Storm' Trailer: Introducing Chloe Price's new voice actress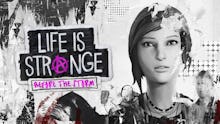 Life is Strange: Before the Storm is a prequel that takes place before the events of the original adventure game, three years before the storm hits Arcadia Bay and throws everything into disarray.
Life is Strange is a story that's nearly sacred to players, especially when it comes to the relationship between its characters. Thankfully, it looks like there are even more tender moments coming in the future with Before the Storm. Deck Nine Games' exploration of the relationship between Chloe Price and Rachel Amber while Chloe's best friend, Max Caufield, is absent looks like it's going to deliver on that end. If not, it will at least bring plenty of melodrama. As long as it's got great music like Breton's "Got Well Soon," we won't be complaining.
Life is Strange: Before the Storm trailer: Behind the scenes with Chloe's new voice actress
Chloe Price is getting a new voice actress in the form of actress Rhianna DeVries, who is bringing a decidedly more deadpan tone to the character as evidenced in the new trailer. She's a relatively new actress with only two other credits to her name, so hearing how she voices Chloe will be a surprise for most. Chloe's previous actress Ashly Burch was unable to participate due to the Video Game Voice Actor Strike, but it looks like her shoes have been filled with someone new who's willing to put her all into it, much like Burch did.
The latest trailer exploring Life is Strange: Before the Storm wants to make sure you know Chloe's ex-voice actress Ashly Burch is still involved, as she's now working as a writer on the game. However, I feel that Deck Nine Games' Zak Garriss missed his calling as a narrator instead of resigning himself to being a writer, which you'll see in the video. He has a penchant for pronouncing things.
You can learn more about Chloe in the Before the Storm when it launches on Aug. 31. Personally, I'm more interested in learning about Rachel Amber and all that she was up to during Life is Strange — at least before she went missing. And please, no more awful "weed-hiding" scenes this time around. We get it. Chloe's a "rebel."
More gaming news and updates
Check out the latest from Mic, like this essay about the sinister, subtle evils lurking in rural America that Far Cry 5 shouldn't ignore. Also, be sure to read our review of Tekken 7, an article about D.Va's influence on one Overwatch player's ideas about femininity and an analysis of gaming's racist habit of darkening villains' skin tones.