Chris Christie catches foul ball at Mets game, gets booed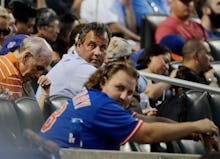 Chris Christie can catch a ball, but he can't catch a break.
During the third inning of the Mets vs. Cardinals game at Citi Field Tuesday night, the embattled New Jersey governor managed to snag a foul ball out of the air — but was promptly met with boos from the crowd.
Though the Washington Post reported that Christie later handed his catch off to a young fan, his act of goodwill was seemingly overshadowed by a Fourth of July weekend beach scandal earlier this month, which saw the governor lounging on a private beach he had closed off to the public amid a government shutdown over budget gridlock.
"Nice to see him get from the beach here to the ballpark," Dan McLaughlin of Fox Sports reportedly said after Christie's big catch.
The beach fiasco hasn't just hurt the governor's approval rating among Mets fans, either: According to a Monmouth University poll released post-"Beachgate," Christie's approval rating currently hovers at around 15% — solidifying his place as the nation's least popular governor.
Christie has been trying to do damage control since the beach incident but to no avail. Ever the sports fan, the governor stepped up to host several hours of the New York sports station WFAN in host Mike Francesa's place last week, only to be met with scores of angry callers.
One angry listener who rang the station up reportedly told the governor to "put [his] fat ass in a car" and go to a public beach, to which Christie responded by labeling the caller a communist.