'Splatoon 2' Local Multiplayer: Does it have split screen? Here's what we know so far.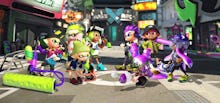 Update: Now that Splatoon 2 has arrived we can confirm that the game doesn't offer local multiplayer on a single Nintendo Switch. You can play with friends using multiple Switch units, but there is no split screen option.
Splatoon 2 is finally making its big splash on Nintendo Switch on Friday. With it comes a single-player adventure, tons of multiplayer matches to play against other people and lots of customization items. But what about playing with friends at home?
Is local multiplayer coming to Splatoon 2? Is split screen still a thing? Here's what you need to know.
Splatoon 2 local multiplayer is happening
Splatoon 2 will indeed have local multiplayer, according to Nintendo's website. However, it's unclear exactly how it will work or whether it will include a split-screen view option.
We won't get a good look Splatoon 2 local multiplayer has to offer until the game drops Friday. You'll be able to engage in local battles with friends and family in up to four-player co-op horde mode battles called Salmon Run, where you can join up to four other Switches locally. We've yet to try this out, of course, but it seems like this will be a pretty awesome setup for anyone looking to play with multiple friends.
If you're itching to play more Splatoon 2 with friends offline, you'll have to wait awhile since there have been no additional demos just yet.
July 23, 2017, 1:27 p.m.: This story has been updated.
More gaming news and updates
Check out the latest from Mic, like this essay about the sinister, subtle evils lurking in rural America that Far Cry 5 shouldn't ignore. Also, be sure to read our review of Tekken 7, an article about D.Va's influence on one Overwatch player's ideas about femininity and an analysis of gaming's racist habit of darkening villains' skin tones.