Hundreds expect to be arrested during D.C. health care protests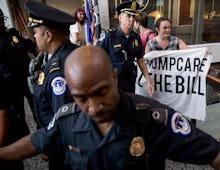 After Senate Republicans' failure to repeal and replace the Affordable Care Act this week, hundreds of demonstrators gathered on Capitol Hill Wednesday to urge their representatives to scrap future attempts to scuttle the health care laws and back universal coverage instead.
Of those who attended the protest, "about 600 or so people" had signed up expressing they were willing to be arrested, according to Jennifer Epps-Addison, president and co-executive director at the Center for Popular Democracy, one of the groups that planned the protest. "A few hundred more" came as supporters and legal observers, she said.
Police on Capitol Hill have made nearly 200 arrests in connection with protests of the Senate's health care overhaul since June. So far, no arrests have been reported as part of Wednesday's protest, but organizers have said they expect hundreds more.
Many of the protesters were Medicaid recipients, patients with pre-existing conditions and others who could be hurt if Republicans repeal the Affordable Care Act, according to organizers.
Mary Jane Maestas, 51, said she traveled from Colorado to attend. "I'm here to fight for my life. My life is in danger," she told Mic. "I'm a six-and-a-half year survivor of HIV. I'm also in the beginning stages of kidney failure."
Colorado is one of 31 states that expanded Medicaid under the Affordable Care Act. As a result, more than 420,000 more Coloradans have enrolled in Medicaid, bringing the state's total enrollment to more than 1.3 million, data compiled by the Kaiser Family Foundation, a nonpartisan health policy group, show.
Under the Affordable Care Act, the federal government has picked up the tab for states who opted to expand Medicaid. But if Congressional Republicans get their way, the states would be forced to cover a bigger chunk of that bill, which would likely force them to give some Medicaid beneficiaries the boot.
Maestas would be among them. Her HIV medication, which is covered under the Medicaid expansion, costs $3,000 a month, she said. "Without that medication, I will get sick and I will die," she said.
Wednesday marked Maestas's third trip to the D.C. to protest this month. She was arrested during a June 27 protest, she said, and planned to be arrested again on Wednesday.
For Epps-Addison, the protest was also personal, she said. "My husband was diagnosed with Multiple Sclerosis two years ago," she told Mic. At the time, she and her husband lived in Wisconsin, one of 19 states that opted not to expand Medicaid, so the couple decided to move to California, where his treatment would be less expensive.
"The Republican attack on the Affordable Care Act, the fact that Republican legislators as well as Republican governors have tried to ensure its failure from the beginning, has had a significant impact on my family and families like mine," Epps-Addison said.