'Destiny 2' PS4 vs. PS4 Pro: Which system should you play the game on?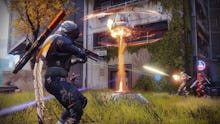 The Destiny 2 beta has officially kicked off, but you may still be debating which console you should use to play the new game. If you're a PlayStation fan, your choices are PS4 or PS4 Plus, but does the upgraded console's extra power actually make a difference?
Thanks to the Destiny 2 beta and YouTube channel Candyland, we have an answer. The new video should help you make a decision.
Destiny 2 PS4 vs. PS4 Pro: Test results and more
According to Candyland's test, it appears both versions of the game played on PS4 and PS4 Pro feature frames locked at 30 fps. Both consoles also faced some frame-pacing problems.
Other than that, however, there doesn't seem to be a huge difference between the two, at least at this juncture. It's important to remember this is the beta of Destiny 2, not the full game, so Candyland's results may change once the official release date arrives. After all, it's possible higher resolution and more polished textures are coming in the final product.
To the untrained eye, the video demonstrates a fantastic-looking game either way you slice it. So if you're trying to figure out what system you want to play the game on (or which to purchase in the future), you may want to wait until there's more content out there. But based on this video alone, you should be getting a great Destiny 2 experience whether you opt for the regular old PS4 or the beefed-up PS4 Plus.
More gaming news and updates
Check out the latest from Mic, like this deep dive into the cultural origins of Gamergate. Also, be sure to read this essay about what it's like to cosplay while black, a roundup of family-friendly games to play with your kids and our interview with Adi Shankar, producer of the animated Castlevania Netflix series.