'Kingdom Hearts 3' 'Frozen' World: Will Elsa make it into the new Square Enix game?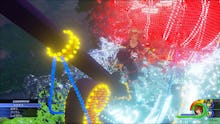 With the promise of a new Kingdom Hearts game coming from Square Enix, there's also the question of which Disney worlds will appear in the upcoming story. We've already seen Toy Story confirmed for Kingdom Hearts 3 but there's one world that's fresh on everyone's minds but still unconfirmed: Frozen.
This is one world that the internet won't just simply let go of, no matter what character Elsa sings about and no matter how loudly she sings it. Disney diehards want to know if a Frozen world is possible. You know what? It could very well be. Anything is possible, if you just believe.
Kingdom Hearts 3 Frozen world: Could we hang out with Anna and Elsa in the new game?
In an interview with Engadget back in 2015, game director Tetsuya Nomura was asked whether Frozen would appear in Kingdom Hearts 3. He said that the developer is "not saying anything on titles not yet announced." However, he did note that the team was working to "deliver more worlds than actually appear in-game."
So that's not a no, but it's not a yes either. Given the popularity of the film and how it's essentially one of the most recognizable Disney titles out there at the moment, there's a good chance you might be hanging out with Anna and Elsa in a Frozen world soon enough.
It's interesting to note that Frozen characters did indeed appear in the Nintendo 3DS title Disney Magical World 2. So on the video game side, it seems these characters are at the very least being given a chance to shine. As far as Kingdom Hearts 3 goes, though? We'll just have to wait and see.
More gaming news and updates
Check out the latest from Mic, like this essay about the sinister, subtle evils lurking in rural America that Far Cry 5 shouldn't ignore. Also, be sure to read our review of Tekken 7, an article about D.Va's influence on one Overwatch player's ideas about femininity and an analysis of gaming's racist habit of darkening villains' skin tones.