The 10 best and worst US cities for stress: Here's where to live if you need to relax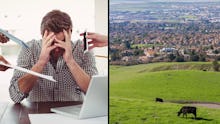 Always have a pressing project for work that gets in the way of date night? Sick of your commute, low pay, high rent or sleep deprivation? Whether it's these or other factors stressing you out, the problem might not actually be you, your job or even your noisy neighbors. Perhaps it is the combined qualities of the place where you live and work that's got your stress-o-meter in a frenzy — at least according to a new report ranking American cities by stress levels published Tuesday by personal finance site WalletHub.
Surprisingly, huge metropolises like New York City did not rank among the most anxiety-provoking places on the list: In fact, it was lower-profile cities, including Detroit and Newark, New Jersey, that topped the list of high-stress locales. That's likely because high-density places offer benefits that others don't, WalletHub analyst Jill Gonzalez told Mic in an email.
"We were a bit surprised to find that the most populated cities are not the most stressed," Gonzalez said. "For instance, New York ranked 49th, Los Angeles ranked 36th and Chicago ranked 24th. These places still have high levels of stress, but not as high as we would have expected. These cities tend to have healthier residents and better quality health systems, which reduces health-related stress. They also have higher income levels and lower un- and underemployment rates, which reduce both work- and finance-related stressors, as well."
WalletHub came up with the ranking by examining the 150 most populated U.S. cities across 30 measures from 14 sources: including TransUnion, Department of Housing and Urban Development and Bureau of Labor Statistics. The four major types of stress the site considered were money, work, family and health-related problems, including divorce and unemployment rates, commuter stress, personal bankruptcy rates and mental health, among other factors.
While, of course, the cities on this list have benefits and challenges beyond these measures, it might be helpful to review the ranking if you're looking for a new place to live — particularly one with a chiller, happier vibe. Here's how WalletHub ranked the least and most stressful cities in the country, plus the type of stress for which they ranked worst or best. Low numbers indicate more stress, while higher numbers indicate less stress.
Least stressful U.S. cities
10. Boise, Idaho: Work stress rank of 149
9. Madison, Wisconsin: Work stress rank of 141
8. Peoria, Arizona: Work stress rank of 135
7. Gilbert, Arizona: Financial stress rank and family stress rank of 143
6. Irvine, California: Financial stress rank of 142
5. Sioux Falls, South Dakota: Family stress rank of 148
4. Scottsdale, Arizona: Financial stress rank of 146
3. Overland Park, Kansas: Financial stress rank of 149
2. Plano, Texas: Financial stress rank of 150
1. Fremont, California: Health and wellbeing rank of 150
Most stressful U.S. cities
10. Shreveport, Louisiana: Work stress rank of 9
9. Augusta, Georgia: Financial stress rank of 12
8. Rochester, New York: Family stress rank of 3
7. San Bernardino, California: Financial stress rank of 15
6. Birmingham, Alabama: Financial stress rank of 1
5. Miami: Financial stress rank of 3
4. Jackson, Mississippi: Family stress rank of 1
3. Cleveland: Health and safety stress of 4
2. Detroit: Health and safety stress of 1
1. Newark, New Jersey: Work stress rank of 1
Again, it was often a mix of negative factors that dragged down high-stress cities on the list — and mitigating positive factors that lifted up what would otherwise be more obvious contenders for the worst-stress list.
For example, while residents of San Francisco — which ranked 99 — had the very least affordable housing on WalletHub's list (which is plenty stressful!), people who live in this city have some of the best credit scores and are in better health than people living in other cities.
Does the list hold up in the opinion of city residents? At least one longtime Miami resident, Laura Villarnovo, agreed. She said to Mic that she feels living in Miami, the fifth most stressful city, has gotten more frustrating in recent years: "I love Miami and was born and raised here ... Sadly, the traffic and overload of people has taken over this great place that I call home."
How work and financial factors affect stress
Work is often the cause of stress: Blame long hours, unpleasant commutes and low income growth or job security. Specifically, people living in at least three Texas cities — Plano, Corpus Christi and Irving — are clocking more time at the office, with the highest average weekly hours on the list. Meanwhile, workers in cities like San Bernardino, California, and Providence, Rhode Island, spent the least time grinding away.
Those looking to worry less about their career might consider moving to North Carolina, as job security ranks high in both Raleigh and Charlotte. Conversely, those living in Tulsa, Oklahoma, and in New Orleans and Shreveport, Louisiana, are struggling with job security.
Of course, it's possible for work conditions to be decent while other financial factors are not. Low access to credit, for example, may be a stressor for those living in some of the most stressful cities like Detroit; Newark, New Jersey; and Jackson, Mississippi, which have the lowest median credit scores. On the other hand, those living in cities like Honolulu, San Francisco and Overland Park, Kansas, have the highest median credit scores.
Finally, there is the matter of affordable housing. Other than New York City, the least affordable places to live were all based in California: Oakland, Long Beach and Glendale. Most affordable cities included Pittsburgh; Buffalo, New York; and Plano, Texas.
Where are people healthy and happy?
Health and family happiness can make a big difference. For instance, the divorce rate was found to be highest in Cleveland, followed by Detroit and Birmingham, Alabama. Yet those living in California seemed to have the healthiest marriages as Glendale, San Jose, Irvine and Fremont topped the list, in addition to Plano, Texas.
California was another big winner with the overall healthiest residents: San Jose, San Francisco, Oakland and Fremont, as well as those living in Lincoln, Nebraska. People living in cities like Corpus Christi and El Paso, Texas, had the highest percentage of adults in poor health, but so do those living in three California cities, too: Riverside, San Bernardino and Fontana.
At last: Who is catching the most Z's? If you live in Port St. Lucie, Florida; Lubbock, Texas; or Springfield, Missouri, you are probably feeling pretty well-rested. But, not surprising, party city Las Vegas, and NYC-adjacent Newark, New Jersey, are burning the midnight oil — with the lowest average hours of sleep per night.
Sign up for the Payoff — your weekly crash course on how to live your best financial life. Additionally, for all your burning money questions, check out Mic's credit, savings, career, investing and health care hubs for more information — that pays off.