'Splatoon 2' Release Time: Midnight launch may be limited to select GameStop stores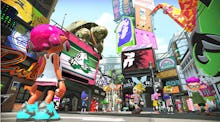 Splatoon 2 will be released at midnight Friday, so if you've been patiently waiting to dive into the colorful inkiness of the multiplayer shooter, you'll need to be ready at your Nintendo Switch to get it downloaded right away. You and the rest of the world looking forward to the splat-tastic shooter will finally be able to start playing, but what about the inevitable traffic jam that's going to happen after the game releases in full? Can you go ahead and download the game before the mad rush begins?
Splatoon 2 release time: Midnight launch, pre-downloads and everything else you need to know
Unfortunately, you won't be able to download Splatoon 2 ahead of its debut, but you will be able to purchase and download it when the game officially launches on the Nintendo Switch eShop. There have been rumblings, however, of some players finding special download cards at Target here and there that do allow you to download the game in full and skip ahead the thousands of players who will be trying to get in the virtual line. The game size, according to the Switch eShop, is 3.3 gigabytes, so it will be a fairly sizable install if you have a slower internet collection.
Redditor BunEevee posted an image of a special "full game download" card that's supposedly available at Target alongside preorder cards. According to BunEevee and a couple of others in the same thread, you can download the game without the wait. If you can't wait until midnight, this may be one of your best chances at trying Splatoon 2 early.
Otherwise, you may want to chill by your Switch and hope for the best, unless you're picking up a physical copy. In that case, you'll want to check with local retailers to see if they're hosting any midnight launch events. And if you ordered from Amazon and are hoping to get it on launch day, hopefully Amazon actually delivers.
Get ready to splat!
More gaming news and updates
Check out the latest from Mic, like this roundup of family-friendly games to play with your kids and our interview with Adi Shankar, producer of the animated Castlevania Netflix series.