Kamala Harris wants to offer states money to end "money bail" systems that are often discriminatory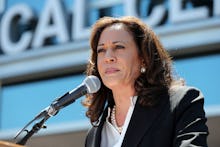 In her first signature legislative proposal as a U.S. senator representing California, Democrat Kamala Harris is offering states millions of dollars in grants if they abolish their "money bail" systems.
The bill, introduced Thursday with Sen. Rand Paul (R-Ky.), is called "The Pretrial Integrity and Safety Act of 2017." It would authorize a three-year, $10 million grant to states that reform or replace pretrial release processes that lean heavily on arbitrary cash and deposit bonds as a means to ensure defendants return to court for trial. If successful, the grants could lead to a reduction in punitive bail practices that studies have shown historically and disproportionally disrupt the livelihoods of black and brown defendants.
"Our justice system was designed with a promise: to treat all people equally," Harris, who previously served as California attorney general, said in a statement released with the bill. "In our country, whether you stay in jail or not is wholly determined by whether you're wealthy or not — and that's wrong."
States would become eligible for the grant if they replace their money bail system with "individualized, pretrial assessments with risk-based decision-making," Harris' statement said. These assessments — which often include court officials determining whether the defendant is a "flight risk" — must not result in practices that are racially discriminatory or unfair to any classification protected by federal law, according to the proposed guidelines. Overall, states must establish the presumption of pretrial release once a defendant has been reasonably evaluated for his or her risk to others in the community.
Abolishing the money bail system by an act of Congress isn't a new idea. The "No Money Bail Act of 2016," a House bill which aimed to withhold law-enforcement grants from state and local jurisdictions that use money bail as a condition of pretrial release, went nowhere after its introduction in February 2016. The current Congress has been gridlocked over repealing and replacing the Affordable Care Act under a Trump administration that also supports harsher penalties for nonviolent drug offenders and is backing away from progressive civil rights functions.
Under former President Barack Obama's administration, bipartisan efforts to reform sentencing for nonviolent drug offenders and address employment discrimination against the formerly incarcerated lost steam as the 2016 presidential election drew near. But there are Republicans who continue to voice support for reforms.
"Americans should be able to expect fair and equal treatment under the law regardless of how much money is in their pockets or how many connections they have," Paul said in the joint press release with Harris. He added the legislation could "strengthen protections for minority and low-income defendants."
Multiple studies have shown that black and Latino Americans are disproportionately affected by excessive money bail practices. Compared to white defendants, blacks are least likely to be granted pretrial release and received significantly higher bail amounts than all other types of defendants, according to a September 2012 study by the Justice Policy Institute.
Getting rid of money bail has broad support in the civil rights community and among grassroots activists. Harris and Paul's bill has been endorsed by dozens of organizations, including the NAACP Legal Defense and Educational Fund and the Ella Baker Center for Human Rights.
"Money bail systems are ineffective, expensive and are unfair to defendants, the general public and people of color," Vanita Gupta, president and CEO of the Leadership Conference on Civil and Human Rights, said in a statement Thursday. "Our justice system should be fair to everyone and this bill is a good first step toward ensuring more effective, efficient and just pretrial systems. We hope Congress will act and encourage states to end money bail."
In 2016, the Movement for Black Lives, a collective of more than 50 groups organized under the BLM movement, called for activists to target federal and state legislatures and urge them to end money bail practices. In its first policy paper, titled "A Vision for Black Lives," the collective endorsed "legislation to eliminate the bail system and capture the billions of dollars in savings to support more effective and humane alternatives to criminalization."
Harris and Paul's bill goes further than that: It establishes an additional $5 million for a National Pretrial Reporting Program, which requires the federal Bureau of Justice Statistics to collect data on how states and municipal courts process defendants. The info could shine light on how immoral and destructive the bail system has been to the poor and to communities of color, Todd Cox, a policy director at the NAACP Legal Defense Fund, said in a statement.
"Justice should never be determined by the color of one's skin or the size of one's wallet," Cox said.