Dascha Polanco on inclusive fashion, her hashtag #selflovery and redefining beauty standards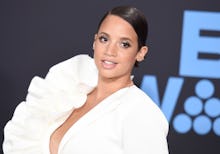 From calling out luxury designers who seem to have no interest in dressing her to speaking about having to hide her Afro-Latina features, Dascha Polanco tells Mic she is just trying to be as real as she can be.
We sat down with the Orange Is the New Black actress Wednesday afternoon at Rookie USA's back-to-school shop day presented by Haddad Brands, where outfits were being donated to the DREAM Project, an organization close to Polanco's heart.
Here, she talks to Mic about why she believes fashion should be created for all, her hashtag #selflovery and how she has learned to define beauty for herself.
This interview has been edited and condensed for clarity.
Mic: I want to talk about something you've spoken about before, which is feeling left out of the fashion industry. Why do you choose to talk about this, or go to New York Fashion Week in a bodysuit, or talk out about designers not wanting to dress you? What message do you want to send?
Dascha Polanco: When I speak, I speak from my own personal experiences. It's what I experience, it's what I'm feeling, it's what I'm living. I think it's important that we make the resources available to all and not to "groupdom" and limit the individual because of how they look. As a little girl growing up, it was very cookie cut and not inspiring, not motivating. It actually made me feel less than and always critical of how I looked instead of embracing my differences. So, it's important that I speak of what I'm experiencing because it's the truth. I try to be as real as I can be.
What does your hashtag #selflovery mean to you?
DP: My hashtag #selflovery came about one day I was feeling like ... realizing that I do not, or have not, loved myself enough and that being the main reason why I have made choices in my life that have affected me later on in a negative way. Also seeing that when I love myself, I'm more confident, I'm more strategic, I know how to approach certain situations because of how I feel within. So, I decided to start this conversation not only among women, but also among men ... It's just a common denominator of self-love [that] should be universal, it should be instilled at any stage of your life, it should be worked on, it should be something we can communicate across our differences, and so I will keep on striving to speak about that and to have open discussions.
What would you say to a younger girl, boy or even your teenage daughter if they ever felt excluded from the fashion industry and therefore felt bad about the way they look?
DP: I think that to exclude is to be rude. ... Young teens, young kids, just because you're not part of it, doesn't mean you can't make a part. So if there [are] things not available for you, I don't think that should be the only [thing] for you to rely on. ... I always say, if something didn't fit I either opened it up, I tried to sew it differently, add something to it, make it so that it's customized for me. You must follow but you can also be a leader. And by being a leader meaning, embracing those difference and saying, "I am as valuable as those that are."
There are all these rules specifically for curvy women, like "don't wear stripes, don't wear crop tops." But there are also rules for men, for older women. What would you say to these so-called fashion "rules"?
DP: I break rules all the time. It comes down to the individual. If you feel comfortable in that and you feel you're your most confident in that, and that's what you want to wear, I think that's the point of reference. I don't think that anyone should determine how you ... You know, there's plenty of times that I've wore things people have criticized me for or not loved, hated, but at the end of the day, I felt the most confident in it. So therefore if, let's say this brand determines or this blog determines that you "shouldn't," it's not up to them. Again, it's them against you. And most important, the main concept of #selflovery and confidence is "I" first, caring about yourself, stationing your ground, "you" first.
Even within the Latina community, especially when it comes to representation at least, there is this idea you have to be "curvy in all the right places" or have a lighter skin tone. There are similar standards for black women. Being that you're Afro-Latina, how do you define what beauty is for yourself?
DP: I remember there was a time when curves were not in, honey. Where it was like, everyone was getting boobs in, it was all about boobs. But now it's a different story, now people are more open to embracing curves and embracing petite. ... At the end of the day, again it comes down to the common denominator of "how do you feel?" You know as a Latina, I am not going to fight against being Latina and looking the way I am anymore. I'm working on how to love that, love those attributes, love the fact that I have so many different roots within me that make this beautiful combination.
Some of the clothing [from Rookie USA's back-to-school shop day) is being donated to the DREAM Project. What does this organization mean to you and why do you find it so important to use your voice as a celebrity for causes like this?
DP: It's very important to use your voice when you have a platform of such magnitude that it reaches not only an audience here, but throughout the world. The DREAM Project is very important to me because it's a project that gives hope, education, opportunity to less fortunate children who are put in circumstances that they have no control [over]. I think it's important that in the Dominican Republic, we develop and we instill more of the film, the TV, the arts, the fine arts, performing arts, culture where there might not be such a large influence.