The 7 best deals in America in 2017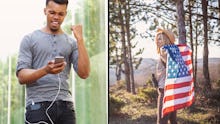 It's midway through 2017 and the last thing you want to do is stress out. Sure, you need to save money, but right now simply enjoying your summer is tip-top on your mind. Luckily, you can have your good-time cake and eat it frugally, too — whether you're hitting up summer sales, shopping for a fun vacation destination or simply looking for cool stuff to do close to home.
We searched far and wide for the best deals across the nation, including experiences, services and products that make life better, happier or easier. From discounted personal products to low-cost, low-stress travel to free education, here are seven offers that stretch your dollar extra far.
1. A free vacation in America's backyard
National parks, where the natural beauty of the United States is protected for future generations, have been called "America's best idea."
If you've ever followed the Interior Department's Instagram feed, you know that most of America's best views are also found there — from the stone "towers" of Arches National Park in Utah to "beyond beautiful" Crater Lake in Oregon.
But entrance fees can add up. For example, the weekly car pass fee for Grand Canyon National Park in Arizona increased from $25 to $30 in 2015. Is there a way to get around this?
Indeed, a few times a year entrance into the parks is free. We'd recommend non-holiday, park-specific days like August 25, the National Park Service Birthday or September 30, National Public Lands Day. There are also dates in April during the weekends of National Park Week.
Finally, you can sign up for annual passes that, at $80 a pop, get you into any park in the country when you want.
2. Free money — through a great rewards credit card
If you're looking for a no-annual-fee credit card — which can save you lots of money over the lifetime of the card — many experts recommend the Citi Double Cash card, which gives you 2% back on literally everything, and can be redeemed for cash. It's NerdWallet cards expert Sean McQuay's preferred card. "I never have to feel bad that I'm not getting the best value for my points ...[and] I don't have to think about which stores I use it in," he says.
But for Zach Honig of the Points Guy, an airline rewards card is an even better option — even if you're a young person who only takes maybe two or three trips a year. "While there are some rewarding no-annual-fee options to choose from, even occasional travelers can benefit significantly from the right airline credit card — even if that means paying a small annual fee," he said an email. "Benefits typically include free checked bags and priority boarding, but some cards also include extra perks, like lounge passes, improved award availability, in-flight food and beverage discounts and more."
After all, if you're interested in doing some traveling, it'd be nice to know you'll have it already paid for. Value Penguin names the Capital One Venture Rewards Credit Card as the best travel rewards credit card in the world for "moderate spenders" — basically, most of us.
For every $1 you spend on anything, you get two miles. You can then apply these miles through the card's "purchase eraser" plan, which lets you pay down past travel expenses, "or even your regular train/bus commuting costs." You can also use it to get "straight cash back." Best of all, there's no foreign transaction fee.
"When it comes to easy miles earning and redemption, the Capital One Venture Rewards Credit Card is tough to beat," NerdWallet adds. "Whether you want to redeem miles for hotel stays, flights, cab rides or cruises, it has you covered." Other options? Some of the most popular airline rewards cards are the Southwest Rapid Rewards Premier Credit Card and the Citi / AAdvantage Platinum Select World Elite Mastercard.
Here's Mic's guide to making sure you get the most out of a rewards card.
3. Easy travel, with TSA PreCheck and Global Entry
Nothing is more valuable than your time (seriously — here's how to calculate it) so maybe you are in the market for a way to save wasted minutes or hours in line? If you're mostly a domestic traveler, you'll want to sign up for TSA PreCheck, which costs $85 every five years and promises wait times of just five minutes in security lines at participating airports.
It also lets you ...
— Keep your laptop in your bag
— Keep your shoes on
— Keep any light jacket or sweatshirt on
— Pass through a metal detector instead of a body scanner
"No matter how often you travel, the ability to access a dedicated security line at the airport is a very welcome benefit," writes Sarah Silbert on the Points Guy blog. For just $15 more, you can actually get TSA PreCheck for free if you sign up for Global Entry, which lets you skip the customs line at international airports. The Global Entry application process is slightly more substantial, as it involves scheduling an in-person interview with an official GE representative.
But it's worth it. Instead of waiting in the customs line after your flight, you just walk up to a kiosk, present your passport, scan your fingerprint and complete a customs declaration form before heading to baggage claim.
"The process of obtaining this benefit was relatively painless, and the service has exceeded my expectations — I'm in and out of customs in literally three minutes," TPG contributor Lori Zaino wrote. You may even be able to get TSA PreCheck and Global Entry for free. Some credit cards, including the Chase Sapphire Reserve and the Citi Prestige, reimburse your $100 Global Entry fee. Here's a list of recommended cards from the Points Guy.
4. (Almost) unlimited battery life
Worry about your phone dying in an emergency? Some technologies are lifesavers — and a portable charger for your electronics is about as good as it gets. Depending on what kind of device you're looking to charge, there are a couple of options experts recommend to get the best bang for your buck.
If you just need a quick phone charge — and in a hurry — Henry T. Casey of Tom's Guide recommends Anker's $33 PowerCore Speed 10000, which uses Qualcomm Quick Charge 3.0. The 10,000 mAh power source comes with enough capacity to charge at least two iPhones or Galaxy phones, he says.
If you need something for your laptop, there are multiple options depending on what kind of make and model you have. TechRadar recommends the Poweradd Pilot Pro2 ($86 on Amazon); if it's 2016 or newer (and/or contains a USB-C port) they recommend going with the RAVPower RP-PB058, which is also an AmazonChoice selection ($80 on Amazon).
For more high-value options, check out TechRadar's roundup.
5. Free, top-notch education
The average annual tuition at a private four-year college costs $33,480 in 2016-2017. But if you attend the Webb Institute in Glen Cove, Long Island, not only is your tuition (valued at $48,350) covered by a full scholarship, but you'll also get a competitive degree in naval architecture and marine engineering.
While hardly the only private college to cover the cost of classes (students are still on the hook for room and board), the fact that you will be earning a degree for a skill that is in high demand makes it an especially good deal.
The school — which ranked on Money's 2015 list of best private colleges where everyone gets a scholarship — promises that "all graduates receive more than one job offer after graduation" and that it has "a 100% placement rate of its graduates." The job outlook appears bright too: According to the Bureau of Labor Statistics Occupational Handbook, the median pay for marine engineers and naval architects is $93,350 and jobs will grow by 9% from 2014 through 2014, faster than the 7% national average.
What's the catch? The school is quite small, with just 98 students enrolled in 2017. And according to U.S. News and World Report, just 19% of the student body is female. Not surprisingly, it's also highly competitive with incoming students having a nearly perfect GPA, according to the school.
For more help, check out Mic's explainer on getting higher education for free or cheap — plus other guides like Money's 2017 list of best colleges for your money and U.S. News's ranking of schools that offer merit aid.
6. Discount products that are just as awesome
Many store brands — as fans of generics know — have long offered the exact same products at only a fraction of the price. But now a new business, Brandless, offers all the items it sells for just $3, whether food, household products or more. While you'll need to be picky, this means you can shave off dollars from what you normally pay at the grocery story for basic items like coconut oil, green tea, hand soap and lotion.
And that's not all. Always lusting after Birchbox but don't want to shell out $10 a month — aka $120 a year? For just $5 every 3 months, the Walmart Beauty Box will send you name-brand products found at Walmart, plus coupons. Considering that most beauty boxes cost between $10 and $20 a month, it's practically a steal. The Box was voted one of six "essential" boxes to have by subscribers at website MySubscriptionAddiction; depending on your age, you can choose from the Trendsetter edition (under 35) or Classic (35 and over).
"I like Walmart's beauty box which manages to carve a niche in a crowded beauty box market. It comes quarterly, it's only $5, and it features affordable drugstore brands," Heels First Travel blog's Keri Anderson writes. "If I could only pick one, this wouldn't be it, but I can still justify keeping it on my roster of fave beauty boxes."
Libraries have evolved in the digital age to be everything from free co-working spaces to efficient ebook lenders. You can get videos, take free classes and reserve books online for faster library pickup.
One example? In 2013, the Brooklyn Public Library converted a large room on the main floor into a spacious commons space complete with a recording studio, iMac editing workstations and reservable meeting rooms. In its first year of operation, the Brooklyn Public Library's newest space has become one of its busiest, Linda Johnson, president and CEO of the Brooklyn Public Library, told the Brooklyn Eagle in 2014.
Considering that an average hardcover book costs $27, renting movies online can easily cost $3.99 a pop and private working spaces can go for hundreds of dollars a month, the public library is one of the best deals around.
Sign up for the Payoff — your weekly crash course on how to live your best financial life. Additionally, for all your burning money questions, check out Mic's credit, savings, career, investing and health care hubs for more information — that pays off.