Tyler, the Creator is still a "walking paradox" on the rumor-baiting 'Flower Boy'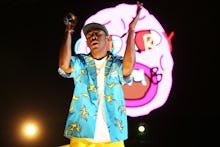 Tyler, the Creator is one of the most commercially solvent rappers of the 2010s. That's "solvent" rather than "successful" because he's never had anything close to a hit song (or even guested on one, which is rarer from a rapper of his tectonic pull), but his success is a 2010s best-case scenario with a rabid cult that will eat up everything he does: absurdist sketch comedy, short-lived satirical aliases, irredeemable tweets. Putting out his last two albums on his own Odd Future label, there was zero pressure for him to conform to anyone else's marketing plan or crossover in any way.
Why would there be? The Odd Future majordomo (not to be confused with Domo Genesis) hit the top five on Billboard's Top 200 Albums three out of three times thanks to the already-converted faithful. So he's been free to rap his self-amusing nonsense with the occasional emo introspection over a lo-fi array of self-made, Neptunes-worshipping sonics without much promise of change as he approaches his fourth album in six years. His first two proper (and quite long) records, 2011's Goblin and 2013's Wolf, made liberal use of the word "faggot," and the former was adorned with rape jokes aplenty. But playing God without any strictures to adhere to can get kind of boring, even for a free spirit.
When 2015's Cherry Bomb finally dispensed with this practice, it did so quietly, on his terms, versus the pressures of the outside world he supposedly didn't give a fuck about. But for high-charting hip-hop events, the post-Goblin albums didn't impact much of the culture outside of the 26-year-old's bubble, and even memorable tunes were scarce. ("Tamale"? "DEATHCAMP"? Anyone?) But they mostly fulfilled his laid-back goal to make "weird hippie music for people to get high to."
Still, it's startling how many rap albums have dominated the conversation during that timespan, possibly giving us the genre's biggest renaissance in years: Run the Jewels 2, If You're Reading This It's Too Late, To Pimp a Butterfly, Summertime '06, DS2, Hamilton, Coloring Book, Atrocity Exhibition, Damn., 4:44. For an audacious early cause celebré of this indie-to-major rap revolution who still sells well, Tyler's taken a surprising backseat as an album artist to even his former compadres in Odd Future Wolf Gang Kill Them All, with accolades for Frank Ocean, Earl Sweatshirt and Goblin's mixer, Syd, all eclipsing his own efforts.
So it's not a huge shock that his new fourth album, Flower Boy, comes with a new modus operandi. It's merely 46 minutes long, and while not exactly linear, it moves swiftly with the confidence of its relatively polished production and a biting lead single, "Who Dat Boy," whose scraping strings recall regular ol' trap. Notably, citing commercial concerns, the Clown Prince of cloud rap changed his infamous Twitter handle (fucktyler) to his usual moniker, and had his PR team actively correct reportage that the album was supposedly titled Scum Fuck Flower Boy, for probably the same reasons.
It goes without saying that this is Tyler's most downright professional album ever, fitting comfortably between luminaries like Thundercat, Toro y Moi and Erykah Badu in the psychedelic-soul realm, but with rapping squeezed into its textured collages. It's a fit, honestly, and his most enjoyable album since Goblin because his production chops have matured beyond sycophantic Pharrell homages and his rhymes are no longer trying to one-up Eminem. It's exciting to hear him actually engaging with bangers that more than just his usual hangers-on can enjoy, like the belligerent Swizz Beatz nod "I Ain't Got Time!" or the Shuggie Otis-splashed chillwave of "Garden Shed." Though it's not enough to stop the more traditional Vince Staples from lapping him in the imagination department sonically on the two-steppy Big Fish Theory.
So once again Tyler's tunes themselves get less attention than an attention-grabbing quality to those highlights in particular. Lines like "been kissing white boys since 2004" and "Thought it'd be like the phrase/ 'Poof,' gone, but, it's still going on" appear to hint that the famously homophobic-slur-brandishing rapper may actually be queer himself, which he's teased many times over the years.
When Frank Ocean famously came out via Tumblr, Tyler commented that he knew something was up because his friend liked unfrosted Pop Tarts. Neither of these men have felt the need to publicly define themselves sexually, even though both have made it clear that their sexuality is worthy of mass speculation. Whom they're attracted to is almost beside the point; both have simply communicated that queerness defines their worldview. Frank has made an ambiguous sexual identity a lens to observe his narrators through on songs like "Forrest Gump." And in Flower Boy's most talked-about lyrics, Tyler associates queerness with the punk attitude and transgressiveness that he's gleefully purveyed in the public eye for years.
If Tyler does identify as queer, though, and confirms in some credible way that he's not putting another one over on us here (he could just as easily have tweeted "Damn, I tried to tell you I liked fucking dolphins years ago"), what will be truly extraordinary is the retrospective confirmation of Odd Future as the strongest alliance of queer artists in black pop: Frank's album-of-the-year worthy Blonde; Tyler's consistent bestsellers that tap Lil Wayne and Kanye West; and Syd, the lesbian whose own, gorgeous Fin is quietly one of 2017's best albums in its own right. But it's just as likely that Tyler's asexual or straight. Whether he's queer or not, we know the longtime dick-joke obsessive loves using queerness as a means of furthering transgressive art, like so many were-they-or-not icons before him: Bowie, Jagger, Mercury.
Artistically, though, Tyler's spiritual analogue is Frank Zappa, who also abstained from drugs while self-producing the zaniest, multipart fart jokes money could buy. Is it really hard to imagine a Zappa song called "Scum Fuck Flower Boy?" The Boy Who Cried Golf Wang may or may not be queer, but this more explicit extrapolation of his sexuality arrives just in time to contrast with his most groomed and conventional musical work yet, adding another layer when we started to fret that he wasn't gaining any new ones. Here's hoping it's the real deal; nothing says "walking paradox" like a repeated target of GLAAD who's not straight himself.
Mic has ongoing music coverage. Follow our main music hub here.