Reports: Sean Spicer resigns from post as White House press secretary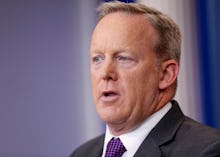 Sean Spicer resigned from his post as White House press secretary Friday morning following President Donald Trump's decision to name hedge fund financier Anthony Scaramucci as communications director.
The news was first reported by the New York Times. Several other media outlets subsequently confirmed Spicer's resignation.
Spicer reportedly objected to Scaramucci's appointment, telling the president it was a major mistake, according to the Times.
The Scaramucci appointment was also opposed by White House chief of staff Reince Priebus and White House chief strategist Steve Bannon, Politico reported. The president was reportedly upset with Priebus over the length of time it had taken to select another communications director after the former director, Mike Dubke, resigned in May.
According to the Times, Priebus thought Scaramucci "lacked the requisite organizational or political experience."
But others in the Trump White House, including Ivanka Trump, Jared Kushner and Secretary of Commerce Wilbur Ross supported Scaramucci for the job.
Politico also reported that National Economic Council director Gary Cohn and deputy national security adviser Dina Powell backed Scaramucci.
Previously, media reports indicated that Bannon and Priebus, often rivals themselves, had joined forces to counter the growing influence of Trump's daughter, his son-in-law and other New York financiers.
Trump's selection of Scaramucci, then, can be seen as an indication that the president has decided which camp he prefers. "This was a murdering of Reince and Bannon," one White House official told Politico. "They said Anthony would get this job over their dead bodies."
Spicer came on as press secretary in January. His tenure was characterized by a combative and elusive relationship with the White House press corps. Following a string of on-camera briefings that seemed to produce only negative headlines for the president, in recent months the White House has increasingly refused to allow reporters to turn their cameras on Spicer or his deputy, Sarah Huckabee Sanders.
July 21, 2017, 1:20 p.m.: This story has been updated.