According to Anthony Scaramucci's Twitter, he believes in climate change and voted for Barack Obama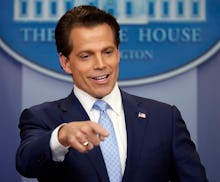 On Friday morning, various news outlets reported that President Donald Trump had offered the job of White House communications director to Anthony Scaramucci, a hedge fund guru and frequent Trump surrogate on cable television.
Trump and Scaramucci came from different places, but ended up in similar orbits. Trump's father was a successful real estate mogul who helped launch his son's career. Scaramucci, meanwhile, came from a less affluent background. His father was a construction worker. Still, Scaramucci became successful in the hedge fund industry. When he sold his stake in SkyBridge Capital, a hedge fund he founded in 2005, the company was reportedly valued at $200 million.
Both men are from New York: Trump was born in Queens, Scaramucci on Long Island. And both men exhibit a brash, unrefined speaking style that some find repulsive and others endearing.
But they haven't always agreed on everything. In fact, Scaramucci once called Trump a hack politician with a big mouth. Scaramucci also said he didn't like the way Trump talked about women, especially Megyn Kellyn, and described his criticism of the hedge fund industry as anti-American.
But Scaramucci has also disagreed with Trump on other political issues. Here are just a few:
Same-sex marriage
Scaramucci is a long-time supporter of the rights of gay people to marry. As early as 2012, he tweeted that he was in favor of gay marriage.
Trump has held multiple positions on the issue of same-sex marriage.
In 2011, he told Bill O'Reilly he was against gay marriage. In 2015, he bashed Chief Justice John Roberts after the Supreme Court ruled in Obergefell v. Hodges that gay couples have the right to marry.
But, after winning the election in 2016, Trump told CNN he was "fine" with the ruling and said it was "settled."
Abortion
In 2012, Scaramucci tweeted that he was pro-choice, putting him in stark opposition to Trump and the vast majority of the Republican party.
Trump promised to appoint judges to the Supreme Court who would overturn Roe v. Wade, the 1973 decision that guaranteed women's right to abortion. "I am putting pro-life justices on the court," Trump said during his final debate with Hillary Clinton in October.
Climate change
In 2012, Scaramucci said it was "disheartening" that "many people" still believe climate change is a hoax.
Trump famously said climate change was a hoax invented by the Chinese and has repeatedly claimed global warming wasn't real because it was cold outside.
Trump also appointed Scott Pruitt, a noted climate change doubter, to lead the Environmental Protection Agency.
Barack Obama
Scaramucci voted for the former president. It's unclear whether Trump did, too, but he launched his career in politics by criticizing Obama and insinuating that he wasn't born in the United States and was thus ineligible to be president. He also said Obama would "go down as perhaps the worst president in the history of the United States."