'Kingdom Hearts 3' Story Rumors: Sephiroth, the classic villain, might just make an appearance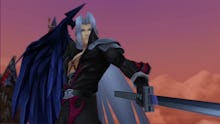 Kingdom Hearts 3 finally has a tentative release date (release year, to be exact) and rumors are flying. What will the game be like? Which worlds can we expect to see in it? Unfortunately we can't always answer these questions, but we can certainly speculate. Recently, the Mirror interviewed Kingdom Hearts 3 director Tetsuya Nomura during the D23 fan convention and shed some light on one important part of the game: a possible appearance from Sephiroth.
Kingdom Hearts 3 story rumors: Will Sephiroth make an appearance?
In the Mirror interview, which was took place through a translaor, Nomura responded to a question about Sephiroth's return to the game as well as other possible secret bosses that could be coming down the pipeline. His answer was decidedly noncommittal, but he did hint at a possibility that Sephiroth is being deliberated on at the time.
"In terms of Sephiroth, do you feel like you want to battle Sephiroth again?" he teased in the middle of the interview at one point. Later on he backtracked a bit, hinting that a return to the same old character might feel "redundant." Unfortunately, he didn't offer any additional insight on any secret bosses that could be included, unfortunately.
"In terms of the secret boss, we can't say anything at this time, but in terms of Sephiroth specifically, my development team are worried that we've had him come back so many times so they're maybe worried it might be redundant at this point. We're still deliberating on it."
So while the team is still looking into potential Sephiroth encounters and even additional secret bosses, we can't write it off completely right now because Nomura doesn't have a definite answer. One thing's for sure, though. We'll definitely be hearing more about this and more as the next few months come to pass.
More gaming news and updates
Check out the latest from Mic, like this deep dive into the cultural origins of Gamergate. Also, be sure to read this essay about what it's like to cosplay while black, a roundup of family-friendly games to play with your kids and our interview with Adi Shankar, producer of the animated Castlevania Netflix series.