'GTA 5' Aliens: How Team Guru found Easter eggs in Rockstar's 'Grand Theft Auto 5'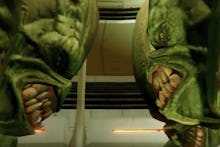 We're used to seeing Easter eggs in Rockstar Games' titles, especially Grand Theft Auto. But quite possibly one of the weirdest ones out there is one that involves aliens. There's been a group sifting through code and in-game secrets for quite some times looking to figure out a specific mystery introduced after the debut of the Gunrunning DLC in June. In fact, they do it often.
They're called Team Guru, and they make searching for Easter eggs their business. When the Gunrunning DLC came out, they immediately went to work searching for cool stuff on the back end of Grand Theft Auto 5. What they found was cooler than they had anticipated.
Grand Theft Auto 5 Aliens: The truth was out there
Team Guru began by uncovering a damaged UFO file after sifting through several lines of code, following them backward through other assets in the game. Eventually they came upon the parameters players would need in-game to complete a mission that would allow players access to an alien crash site and subsequent alien Easter eggs. They were able to force the mission to happen, but they had to find out a way to get it to happen organically in the game.
This turned out to require 600 unique supply runs, which Team Guru did via livestream for three or four days for 12 hours a day. The pair was very close during this time, eventually triggering the event and having it ready for everyone else to check out as well. The process even ended up bringing the pair together, as they got married and happened to be grinding for the supply drops on their honeymoon.
If you're curious about the Easter egg, you can check out the video and watch it all go down. But never discount the power of persistent players who want to find things on their own hidden in games. They can suss anything out, as you see in the clip!
More gaming news and updates
Check out the latest from Mic, like this deep dive into the cultural origins of Gamergate. Also, be sure to read this essay about what it's like to cosplay while black, a roundup of family-friendly games to play with your kids and our interview with Adi Shankar, producer of the animated Castlevania Netflix series.