'Pokémon Go' Event End: How long will legendary raids last?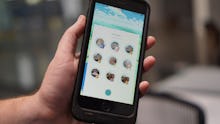 The legendary Pokémon Lugia and Articuno have appeared in Pokémon Go. Following their reveal at the Chicago live event on July 22, legendary Pokémon have begun spawning worldwide.
But as with most exciting changes in the Pokémon Go community, the real question is whether or not these legendary birds are here to stay. Are they going to fly the coop at the earliest opportunity? If you're concerned about being able to catch these Pokémon long-term, we've got the details for you.
Pokémon Go Event End: Fans are hopeful, but official language on legendary raids is vague
According to the Pokémon website, legendaries will be a fixture through 2017. In a statement distributed prior to the Chicago live event, the company states that "legendary Pokémon will continue to appear throughout the year in Pokémon Go," and encourages players to be on the lookout for "the arrival of more legendary Pokémon in Pokémon Go" as well.
A statement on the Pokémon Go reveals that the company plans to rotate which legendaries are available at any given time, but doesn't specify when that will happen.
Now everyone can catch Articuno, but it will appear at Gyms only for a brief while, so join your friends and try to defeat this awesome Pokémon. The other two Legendary Pokémon of the trio, Zapdos and Moltres, will soon show up at Gyms for you to challenge.
It seems safe to assume that legendary Pokémon are here to stay, but fans are unsure of what the future holds for legendaries and their availability. In a thread on the Silph Road, players questioned how available these Pokémon would be in the future.
"I hope [legendary raids are permanent]," wrote user megahiro. "I'm in vacations of the university. Gyms and PokéStops are away from me."
Other users weren't so sure that this would be the case. "They said Lugia was limited at the event," user c-murphs_workreddit wrote. "I assume they mean timed limited until the next time he comes back. So catch one within the next 48 hours if you want one now."
Details are still scarce about whether or not Lugia and Articuno are here to stay, but if you're able to catch them while they're spawning right now, you might as well try your hardest to catch them now — lest you get left out when they fly away.
More Pokémon Go news, updates, tips and tricks
Raids are here! See why they may be the key to legendary Pokémon. Find out how to determine how long it will take you to reach level 40, and see what we think of the Gen 2 Pokémon added to the game. Here are the kinds of Pokémon you get from 10-kilometer eggs, and here's where you can check out what you missed during the Water Festival and Solstice events.