Free skydiving and tattoos? 7 cool, ahead-of-the-curve benefits you'll wish your employer offered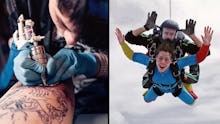 Imagine your dream work perk: Would it be unlimited vacation days? A great retirement plan with an employer match? Free goat yoga?
When you think of the best benefits at work you probably think about basics, like vacation days and health insurance. And as it turns out, those factors, plus flexible hours and work-from-home options, are in the top five benefits that most employees value the most, according to a 2016 Fractl survey.
But the benefits employees value most can vary significantly depending on their life stage. "Recent grads definitely tend to focus on 'bling' benefits, like the trips, the hardware, the experiences, the pampering," Marc Cenedella, CEO of career site the Ladders told Mic via email. Older employees, on the other hand tend to be more interested in perks like a 401(k) match, since they are getting closer to retirement age.
While many companies stick to the basics when it comes to benefits — which typically add another 25% to 40% in cost to the employer on top of the worker's base salary — some go all out to dazzle their employees. Sure, a great 401(k) match is important, but when it comes to the day-to-day experience of working at a company, you're much more likely to remember that free skydiving lesson or luxury retreat in France.
So who is offering some of the most out-of-the-box and inspired employee benefits? Read on.
1. Free extreme sports adventures
Experience-based benefits are gaining popularity as most millennials report a preference of having experiences over material items, according to a 2014 Harris poll conducted for Eventbrite.
Companies are taking note. Employees at online tutoring company Studypool and IT firm Augury can partake in extreme sports experiences like skydiving, Cenedella said.
Rather ski? At snowboard company Burton, employees also get free ski passes and can ditch work to ski for powder, Business Insider reported. And if rock climbing is more your hang, the fondue restaurant chain The Melting Pot has an in-office rock climbing wall at its Tampa, Florida, headquarters.
2. Luxury life on the company's dime
If yachting is something you've always wanted to do, then working at phone repair company iCracked might be a great place for you. The company provides employees access to the company yacht, the Muse reported, and encourages them to go yachting as a way to chill or go sightseeing.
At Augury, employees who refer a new hire can choose from incentives like renting a Lamborghini for a weekend, courtside seats at an NBA game, a music concert in Europe or a meal for two at a 3-star Michelin restaurant, Cenedella said.
And for those in that "Paris state of mind," working at 3-D model and virtual reality company Sketchfab may be the ideal work environment. The company offers pains au chocolat every Friday morning. "We also do a week of team retreat every year, usually in the south of France," Alban Denoyel, CEO of Sketchfab said to Mic via email. "We fly the entire U.S. team to France, and gather in a nice vacation house. The typical schedule is that the morning is spent on brainstorms and working sessions, but the afternoon is mostly open for fun, sports and cooking."
3. Paid time abroad
Jealous of the coworker who gets to work abroad? Employees at marketing agency Velvet Media can actually spend a month working at one of their overseas offices, the Associated Press reported, and the company even gives employees extra cash to cover expenses. Also, advertising firm Havas offers a global learning experience designed to give employees insight into how the company operates across its many cities, countries and agencies, Ad Age reports. Employees are "hosted" by a foreign Havas office where they work and live for a month, blogging about their experience as they go on the Havas Medium page.
Other companies like marketing startup Experticity grant week-long humanitarian trips every few years with upcoming destinations that include Nepal, Bolivia and Ecuador, a spokesperson for Experticity said in an email. The company pays for trip expenses like food, lodging and transportation up to $2,200 per person annually, in addition to letting employees take paid time off for the trip.
4. Puppy love at the office
In support of your fur-baby, Genentech offers employee discounts on doggy daycare and insurance, Fortune reported. Companies like Amazon, Kimpton, Atlantic Health, Salesforce and VMWare allow employees to bring their pups to work.
Salesforce offers a special room for dogs, which includes crates, beds and water bowls. At Amazon, at least 500 dogs attend work regularly at the company's Seattle headquarters and 4,000 dogs are registered and cleared to come to the office, Yahoo Finance reported. Dogs don't just sit under their pet parent's desk at Amazon either. The company created a 1,000-square-foot pup park near Amazon's campus so dogs can exercise and play.
5. Free tattoos, concerts and rides home from the bar
Partied too hard at the bar but need to get home safely? Employees at C3 Metrics can ride Lyft and Uber on the company's dime, after an employee was charged with a DUI, the Associated Press reported. "We want employees to make the safe and smart decision not to drive," co-founder Jeff Greenfield told the AP.
For those who feel the need for a little ink or the desire to rock out to live music, working at Tinsel, an event design and planning company, might be a good move for you. The company offers tattoos, concert tickets and massages to reward performance, the Associated Press reported.
6. Solid benefits for LGBTQ employees
Sometimes the coolest move is simply staying ahead of the curve. A number of companies want to ensure that the needs of all employees are met, which is why Accenture and Goldman Sachs both cover the cost of gender reassignment for employees. Of course, they're not alone in supporting their LGBTQ workers. Here's a list of 647 companies that provide at least one transgender-inclusive plan.
Many companies, like Starbucks and Chevron, provide benefits for same-sex couples, the Huffington Post reported. And Google has been covering the extra health costs that same-sex couples in domestic partnerships pay since 2010 — five years before same-sex marriage became legal in all 50 states.
7. Free money
You might be grumbling to yourself that the only perk you really want from your employer is a raise. While that's always a challenge, many employers have found other ways to offer workers a little extra cash — with just a few strings attached about how you can use the money.
A handful of companies provide up to $10,000 for student loan debt; shopping site Boxed gives workers up to $20,000 for wedding expenses; and Airbnb offers a $2,000 travel credit, to name just a few examples. Read more about these and other valuable benefits here.
Sign up for the Payoff — your weekly crash course on how to live your best financial life. Additionally, for all your burning money questions, check out Mic's credit, savings, career, investing and health care hubs for more information — that pays off.