Baton Rouge police chief resigns after a year of political turmoil over Alton Sterling shooting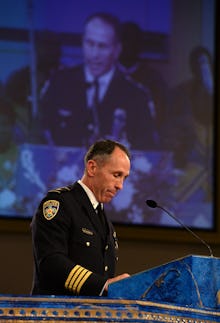 Carl Dabadie Jr., who served as police chief when an officer shot and killed Alton Sterling in Baton Rouge, Louisiana, in 2016, announced his resignation and eventual retirement on Monday.
In a letter dated July 24, Dabadie hinted that his departure was in part because of a strained relationship with Mayor Sharon Weston Broome, who campaigned in 2016 on promises to replace the chief. Broome and others had been critical of the Baton Rouge Police Department in the wake of Sterling shooting and amid allegations that top brass had tolerated excessive force and racist rhetoric from officers.
"I have had the honor and privilege of leading one of the finest police departments in the country and I will forever be thankful for that opportunity," Dabadie wrote in the letter to Broome that was published by the Advocate. "I had hoped that our relationship could have grown into a strong partnership as we have faced times this city has never seen."
Of course, Dabadie is referring not only to the July 5, 2016, shooting death of Sterling, but also the days of protests sparked by the shooting which resulted in arrests and injuries to officers. On July 17, 2016, a lone gunman, who associated himself with black separatist organizations, shot five BRPD officers and a deputy of the East Baton Rouge Parish Sheriff's Office. Two of the BRPD officers and the sheriff's deputy died.
The violence helped intensify an ongoing national conversation about the deaths of African-Americans at the hands of police. Some critics blamed the Black Lives Matter movement for increased threats to police officers, as a byproduct of the protests.
"When officers made the ultimate sacrifice and lost their lives in the line of duty, the people of our city, parish and state stood with us as they always do," Dabadie said in a separate statement released with his letter to the mayor. "That bond will not be broken, even though some may try [to break it]."
Dabadie has served in the BRPD for over 30 years. Broome's efforts to replace the chief were reportedly prevented by Louisiana civil service laws that protect some public officials from being fired without cause, the Advocate reported.
"Unfortunately, I am in a situation that will not serve our police department or the citizens of Baton Rouge," the chief said in the statement.
Dabadie's retirement is effective Oct. 2.
Acting U.S. Attorney Corey R. Amundson, the federal prosecutor who announced in May that the Justice Department would not file criminal civil rights charges against the officers involved in Sterling's death, praised Dabadie on Monday. "We greatly appreciate Chief Carl Dabadie's strong leadership and sacrifice in leading the men and women of the Baton Rouge City Police Department through a very difficult chapter in our city's history," Amundson said in a statement.
On Monday, Broome had kind words for the retiring chief. "Chief Dabadie is an honorable man and I will continue to say that," the mayor said Monday. "Many people appreciate, certainly, his contribution to law enforcement."
July 24, 2017, 9:09 p.m. Eastern: This story has been updated.