President Donald Trump turns Boy Scout Jamboree into campaign rally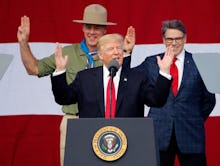 On Monday, President Donald Trump spoke to a group of over 40,000 Boy Scouts gathered in West Virginia for the Boy Scouts of America 2017 National Scout Jamboree. The event, PBS reported, is typically held every four years. According to the boy scouts organization, seven of 11 sitting presidents have attended the event.
Beyond simply attending the gathering, each U.S. president since 1910 has also served as honorary president of the Boy Scouts of America. Barack Obama did not attend the jamboree while serving as president, though he did send a video address for the organization's 100th birthday celebration in 2010.
However, that didn't stop Trump from pointing out Obama's absence during his presidency to the thousands of young people in attendance.
"By the way, just a question," Trump asked the crowd. "Did President Obama ever come to a Jamboree?"
The comment about his predecessor, and dozens of other political jabs made by the president of the United States, did not go unnoticed by Twitter.
In one exchange Trump cited the Boy Scout oath, which states members must be "trustworthy and loyal." Trump took this as a moment to let the children in the crowd know that Washington politics could "use some more loyalty."
In another part of his lengthy speech Trump again reinterpreted the Boy Scout oath, which says Scouts will do their duty for God. He added that "Under the Trump administration you'll be saying 'Merry Christmas.'"
Moreover, Trump also brought one of his favorite talking points to the jamboree: the media.
Later, in front of the crowd of scouts, that are largely not of voting age, Trump mentioned Tom Price, the secretary of Health and Human Services, who was in attendance at the event just one day before the Senate is set to vote on its proposed health care law. Trump turned to Price and said with a laugh that if he does not get the votes to repeal and replace the Affordable Care Act he will be fired.
During the speech the president also noted how well the stock market is performing, his defeat of Hillary Clinton in the presidential race and explained that he can't decide if Washington is a "swamp," a "cesspool," or a "sewer."
In the end, Trump extolled a bit of advice for the children to "do something that you love, work hard and never, ever give up and you're going to be tremendously successful, tremendously successful."
He added that one day they may even be successful enough, like his friend William Levitt, to go out, sell their company and buy a big yacht.