'Destiny 2' PC Beta Release Date: Everything non-console players need to know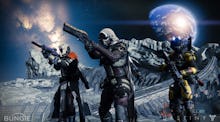 Console players already had their taste of the Destiny 2 beta, but PC players were left out in the cold for a bit. They weren't able to join in with their console brethren just yet, but there's a light at the end of the tunnel.
We know Destiny 2 will finally be touching down on PC proper on October 24, but when will players get a chance at trying out the beta and everything it offers on PC? It could be a lot sooner than you think. Hopefully, anyway.
Destiny 2 PC Beta Release Date: When can you start playing on your computer?
Destiny 2 on PC was confirmed to have a beta, but it was delayed, as is the PC release for the upcoming title as well. The console versions will be releasing on September 6, so PC players will have to get playing a month and a half later than players can start frolicking about on Xbox One and PlayStation 4.
Unfortunately, Bungie has yet to announce when the PC beta will begin, except for brief murmurings that the beta will go live in August. Comparatively, the PlayStation 4 and Xbox One betas were live on July 18, and Wednesday, July 19, respectively. As of this writing, the beta is still going for console players through 9 p.m. Eastern, but that's it as far as the initial look goes for console players.
Destiny 2 players will have to access the PC version through Battle.net, but there won't be any cross-saving between console and PC players. If you want to start early on console and swap over to PC upon its release, unfortunately that won't be an option, so be prepared to wait if you're looking forward to playing Destiny 2 on PC, in all cases. Here's hoping Bungie comes forward with a concrete release date for the beta soon.
More gaming news and updates
Check out the latest from Mic, like this essay about what it's like to cosplay while black, a roundup of family-friendly games to play with your kids and our interview with Adi Shankar, producer of the animated Castlevania Netflix series.