'Pyre' Nintendo Switch Release Date: Will it be ported to the portable console?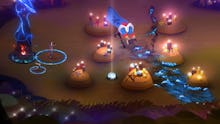 Supergiant Games' Pyre just arrived on PC and PlayStation 4, offering a new world for players to explore while duking it out in 3v3 battles. You'll explore the entirety of an area known as the Downside while hanging out with the various personalities the game features, but to do that you'll have to either own or purchase one of the platforms it's currently available on.
It's not really a title that you'd expect would require a lot of computing power to run, however, so it's not out of the realm of possibility to see it come to the Nintendo Switch. Is a Switch port in the cards for this new adventure from Supergiant Games?
Pyre Nintendo Switch release date: Could it happen?
According to an announcement on GoNintendo, it appears that Supergiant Games is not bringing the game to the Nintendo Switch just yet. The official statement reads as follows:
"Thanks very much for your interest in seeing 'Pyre' on Switch! While we'd love to bring Pyre to as many platforms as possible, we're a small team keeping our focus tightly on PS4 and PC for the time being. If we have any updates to share on that front, we'll likely announce those via our official site or our @SupergiantGames Twitter feed, so be sure to keep an eye out. Thanks for your support."
This may mean that right now a Switch version of Pyre isn't in the cards, but that doesn't mean we won't ever see a new port of the game, especially since bringing titles to Nintendo's console/handheld hybrid is so hot right now.
While it's disappointing to think this isn't being planned, there's still a glimmer of hope since this wasn't an outright no. Hopefully either Supergiant Games or Nintendo will consider steering their efforts this way in the near future, as the Switch is always worth bringing more titles to — even if it continues to live up to its reputation as a port machine.
More gaming news and updates
Check out the latest from Mic, like this deep dive into the cultural origins of Gamergate. Also, be sure to read this essay about what it's like to cosplay while black, a roundup of family-friendly games to play with your kids and our interview with Adi Shankar, producer of the animated Castlevania Netflix series.