For Harry Potter fans, the best way to relive the series is in Edinburgh — with a side of Scotch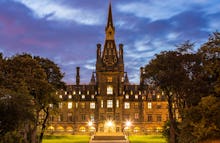 My family grew up with Harry Potter — my brother and I were voracious readers who raced our way through each book the night it was released. When the fourth book came out while I was stuck at summer camp, my father brought it to me as a gift when he came to pick me up (I took this as a sign that it was okay to ignore him on the drive home).
When planning a family trip this summer, I was challenged with a list of limitations. We needed a city with an international airport so we could all fly in easily, and we only had a long weekend so it had to be a manageable destination. And we plan our trips around food, so there had to be stellar restaurants in the mix. Edinburgh, the capital of Scotland, fulfilled all the above criteria, and had the added benefit of being the adopted hometown of J.K. Rowling. Another bonus: Scotland's other major export, Scotch, has also become a relatively new shared hobby for my family. Finally, we'd previously traveled to the city together, so we could skip the busiest attractions — Edinburgh Castle and the National Museum of Art.
To maximize our four-day trip, I reached out to travel planner and Scotland expert Jonathan Epstein, who runs Celebrated Experiences. He suggested the G&V Hotel (formerly the Missoni Hotel) for its convenient location on the Royal Mile, within walking distance to the shops on Victoria Street. Here's how our trip panned out.
Day One: Let your wand lead the way
Since we were all traveling from different cities and arriving at different times, Friday was our more relaxed day. We started with lunch at Scran & Scallie, a casual pub run by two of the city's top chefs: Tom Kitchin and Dominic Jack. There is really no such thing as a light lunch in Edinburgh — our orders included fish and chips, steak pie and fish pie.
The fuel was necessary for what was next: A free city walking tour of places made famous by the Harry Potter series. Our tour guide led us to Greyfriar's Bobby, a cemetery where she said J.K. Rowling went to write (the names on the tombstones inspired a few characters' names), the street that inspired Diagon Alley, and two cafes that Rowling frequented as a young author. (For something more private, book a trip with Touring Scotland, which includes a visit to Alnwick Castle, a filming location for Hogwarts that offers broomstick riding lessons.)
After an intense day of walking, we unwound at Whiski Rooms for our first taste of Scotch in the city. The tome-like menu has whiskeys from around the world, served neat and in cocktails, and there's a shop next door in case you fall in love with a liquor and want to take it home. Dinner that night was at a gorgeous, light-filled farm-to-table restaurant called Timberyard. There are four, six and eight-course prix-fixe options, starting at 55 pounds ($72), with mix-and-match options for vegetarians and pescatarians.
Day Two: A taste of Scotch and seafood
I wanted to spend our first full day taking in some of the gorgeous Scottish countryside. While my all my family members are fans of Harry Potter, my dad requested his own pop culture excursion — a trip to Rosslyn Chapel, which was featured in the film adaptation of The Da Vinci Code.
A group tour with Timberbush Tours included a visit to Rosslyn Chapel, which received four times the number of annual visitors the year after The Da Vinci Code came out; the town of Melrose; Scott's View, where novelist Sir Walter Scott liked to go for inspiration; and finally, Glenkinchie distillery for a tour and tasting.
After some shut-eye on the shuttle ride back to our hotel, we ate at Ondine, a Scottish seafood restaurant. If you're with a group, don't skip the cooked seafood platter, a heaping serving of fresh, olive oil-covered shellfish.
Day Three: New appreciation for whiskey
On our last day, we followed the itinerary that Epstein and his team put together for us. He recommended Glengoyne Distillery, just 75 minutes outside the city, paired with a trip to Stirling Castle, where the Scottish royal family once lived.
Our driver picked us up early in the morning, and once we explained to him our interest in Harry Potter, he spontaneously planned a few detours for us. We stopped by Fettes College, a boarding school in the north of Edinburgh, close to where J.K. Rowling lived with her sister when she first moved to the city. (Yes, its gothic exterior bears a few similarities to Hogwarts.) We also drove by the author's current home in Edinburgh, where I craned my body out the window to snap a quick photo.
At Glengoyne Distillery, we opted for the Malt Master Tour — which was pricy at 65 pounds per person ($85), but well worth it for the hands-on experience of blending our own single malt whiskeys. We were each given five single malt whiskeys (whiskey produced in one distillery, and in this case each was drawn from one cask) to taste and turn into our own concoction.
Aside from being the most fun I've ever had with beakers and test tubes (why can't all science experiments be like this?), the experience gave me new appreciation for what actual malt masters do all day. It's no easy task to blend barrel-strength liquor into something palatable, especially because by sip two, the taste of pure alcohol knocks out most of your taste buds. I volunteered to check my bag so that we could take the 200 mL souvenirs home. I plan to host a blind taste test with my friends, so we can determine who in our family has the best nose — both for bragging rights and a potential future career in the world of whiskey.