'Marvel vs. Capcom: Infinite' Chun-Li: Capcom is going to make the popular fighter look less weird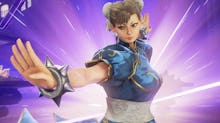 Marvel vs. Capcom: Infinite is bringing your favorite Marvel and Capcom characters together for a brawl that should involve several familiar faces. You can even check a demo out right now the game's story mode. Several people already have, and there's quite a bit of backlash involving one very important, venerable Capcom character: Chun-Li.
Players have been complaining about how bizarre Chun-Li looks in the game and how bizarre she looks. She's got a very different face than most are used to seeing her with, and it's upset those looking to try the next installment of Marvel vs. Capcom. In response, during a panel during San Diego Comic-Con, Capcom producer Yoshinori Ono announced that the developers are improving Chun-Li's looks as well as several others.
Marvel vs. Capcom: Infinite Chun Li: Changing up faces
Ono stated the following, via GameSpot:
"The development team is hard at work finishing the game for the September 19 release date, and based off the feedback we heard, we are currently making improvements to Chun-Li as well as other Capcom characters. Since the work is still in progress, we don't have anything final to show you just yet, but stay tuned."
From personal experience, many of the characters in-game so far look a little off from their counterparts, especially Devil May Cry's Dante. The game overall feels a lot less polished than even the previous Marvel vs. Capcom game, so hopefully we'll see some massive improvements before its official release on September 19 for Xbox One, PlayStation 4, and PC.
More gaming news and updates
Check out the latest from Mic, like this essay about the sinister, subtle evils lurking in rural America that Far Cry 5 shouldn't ignore. Also, be sure to read our review of Tekken 7, an article about D.Va's influence on one Overwatch player's ideas about femininity and an analysis of gaming's racist habit of darkening villains' skin tones.