House passes new sanctions against Russia by an enormous margin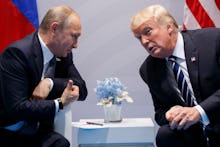 On Tuesday, the House of Representatives overwhelmingly voted in favor of new legislation that will place sanctions on Russia, Iran and North Korea. According to Politico, the legislation will also place limits on President Donald Trump's power to end or ease any penalties against Russia.
The legislation, which House members voted in favor of by a margin of 419-3, is largely aimed at Russia for its alleged involvement in the 2016 presidential election and its military aggression in Ukraine and Syria, the Associated Press reported.
Now, the legislation must pass in the Senate and be sent to the president for either his signature or his veto. Neither the Senate nor the president have signaled their respective plans for the bill. However, White House press secretary Sarah Huckabee Sanders, told reporters that the president has no intention of getting rid of sanctions, but added that he wants to ensure the "best deal" for the American people.
"These three regimes in different parts of the world are threatening vital U.S. interests, and they are destabilizing their neighbors," House Foreign Affairs Committee Chairman Edward R. Royce (R-Calif.) said Tuesday. "It is well past time that we forcefully respond."
As the Washington Post reported, some of Trump's own administration have signaled their distaste for the new legislation, including Secretary of State Rex Tillerson, who reportedly doesn't support the provision that would require Congress to sign off on any easing of those sanctions for Russia and Iran. According to the AP, others on the president's staff have argued the House review provision infringes on the president's executive authority.
However, as the Post noted, the near-unanimous vote on the legislation means the House could override a presidential veto if it should come to that.
"This is critical at a moment when our allies are uncertain about where this administration stands with respect to Russian aggression," House Minority Whip Steny H. Hoyer (D-Md.), told reporters Tuesday. Hoyer added that Congress could even take it a step further in targeting Russia with further sanctions if Russian President Vladi­mir Putin fails to "heed the message of this bill that their business as usual cannot and must not continue."