Warrant suggests Justine Damond may have slapped police cruiser before she was fatally shot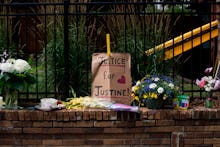 On July 15, 40-year-old Justine Damond called the Minneapolis police department to report a possible sexual assault happening near her home.
When officers Michael Harrity and Mohamed Noor arrived, Damond approached their vehicle. She allegedly spoke to the officers through the driver's side door, but was then shot in the abdomen by Noor who was in the passenger seat. Damond died at the scene. She was set to marry her fiance Don Damond in August.
"The death of Justine is a loss to everyone who knew her. She touched so many people with her loving and generous heart," Damond told reporters in a press conference.
Immediately following the incident it was revealed that while both officers were wearing body cams, neither one had it turned on, according to CNN. Little other details have been revealed about what could have possibly lead to Damond's shooting.
However, according to new reports, one of the officers claimed that a "loud sound" near the squad car may have startled Noor.
"Upon police arrival, a female 'slaps' the back of the patrol squad," a search warrant obtained by Minneapolis Public Radio said. "After that, it is unknown to [Bureau of Criminal Apprehension] agents what exactly happened, but the female became deceased in the alley."
As MPR explained, the document does not explicitly say it was Damond who slapped the cruiser or caused the loud noise.
Harrity, CNN reported, spoke to investigators on July 18, however Noor has declined to speak with investigators. Both men remain on paid administrative leave. According to Australia's 9 News, a memorial service for Damond will be held in Minneapolis in August. Her ashes will then be returned to her family in Australia.