Why Uber is charging $15 if you forget your phone, purse or other items — and competitors that don't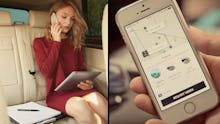 Next time you take an Uber, make sure you have all your belongings before hopping out. If you leave something behind you may be charged $15 for its safe return: Beginning Tuesday, drivers in Boston and Chicago must be paid this fee for returning forgotten items; then the fee goes into effect across the United States in August, and in September for Canada.
Why the new penalty? Uber is portraying the change as positive for its drivers. The ride-sharing company reports that its average driver returns about 11 forgotten items to riders every year on unpaid time — thus the new fee will compensate those who make the extra effort.
While this certainly seems fair to drivers, it is notable that Uber customers — and not the company itself — will shoulder the cost. It is not the first time Uber has been found to nickel and dime riders without sparing its own cash: It has been reported, for example, that the company pockets the difference when customers overpay for a shorter-than-expected ride, instead of sharing that extra amount with drivers.
Uber has struggled for years with image problems, which came to a head in June when founder Travis Kalanick resigned following accusations of a culture of sexism at the company and an embarrassing recording surfaced of Kalanick arguing with a driver — about pay.
What the new fee means for you
First: If you are a driver, the process of getting your fee is simple, according to the company: Drivers who return lost items will simply add details of the return in the "I returned a lost item to my rider" driver app — and receive payment within three to five days of the submission. In addition to the $15 fee for returning lost items, drivers can also currently accept tips, receive a cancellation fee if riders cancel after more than 2 minutes and get $2 extra for transporting teens. The company detailed a plan for "180 Days of Change" to improve overall driver experience in a recent email to drivers.
But what if you are a rider — and tend to be forgetful? This might be the moment to switch to an Uber alternative. You wouldn't be the first or the only person to change to a competitor: In January, the #DeleteUber hashtag trended on Twitter after the the company increased surge pricing during a New York City taxi strike.
Thus far Uber is the first major ridesharing service to implement the $15 fee for returning lost items. Lyft, an Uber alternative, does not charge riders a fee for returned items — but you are encouraged to tip your driver.
Want even more backup options? You've got choices.
Check out services like Arro, Curb , Via or zTrip for prices as low as $5. Since these companies and apps may serve a limited market, it's best to have more than one set up before you need to get a ride in a pinch. But for now the future of the industry (and the competitiveness of its options) looks bright. Lyft in particular is growing fast: Gross bookings increased 25% to over $1 billion in the second quarter of 2017 — faster than Uber, Bloomberg reported.
Sign up for the Payoff — your weekly crash course on how to live your best financial life. Additionally, for all your burning money questions, check out Mic's credit, savings, career, investing and health care hubs for more information — that pays off.