Looking at the eclipse without proper glasses is incredibly dangerous — a doctor explains why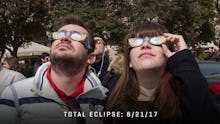 The upcoming total solar eclipse on Aug. 21 is a big deal. It's the first time in 99 years that such a phenomenon — marked by the moon perfectly aligning with the sun, blocking its light — will be viewable coast to coast. It's also the first time in 40 years since people could see it from the continental U.S. at all.
You know what else is a big deal? Your eyesight. And it could be terribly damaged if you don't know how to protect it during a solar eclipse.
"Inevitably, there's a heart-wrenching story of some kid who got hurt because he or she didn't know the dangers or how to view the sun safely," Ralph Chou, a doctor and professor emeritus at the University of Waterloo School of Optometry and Vision Science in Canada, said by phone. But the good news is that "as long as people follow the right instructions, they should be able to enjoy the eclipse and see it without endangering themselves."
Stay safe with these three tips.
Know if you're in the path of totality
Almost anyone will be able to witness at least a partial eclipse come Aug. 21, weather permitting. Those who are lucky enough to be in the "path of totality" will be able to spot a total solar eclipse, which is the only time you can watch without eclipse glasses. This is when the moon "entirely blocks the sun's bright face," according to NASA's safety guidelines.
Make sure your eclipse glasses are the certified real deal
There are only five manufacturers who sell certified eclipse glasses: American Paper Optics, Rainbow Symphony, Thousand Oaks Optical, Baader Planetarium (AstroSolar silver/gold film only) and TSE 17.
All of these glasses meet a set of international standards labeled "ISO 12312-2," and they often look like regular framed glasses or paper glasses similar to those given out at 3-D movies (but without the multicolor lenses). On their manufacturer websites, most paper versions are fairly cheap when purchased in bulk quantities — American Paper Optics is selling 25 Bill Nye-themed eclipse glasses for $23.75, for example. But more than 2 million pairs will also be distributed for free across U.S. public libraries, so it may be worth checking there.
"They are being given out for free by a lot of astronomy clubs and science museums and so on," Chou said. "It's not like it's a hard-to-get item."
There has been at least one recent report of scammers selling fake solar glasses, so be sure to get them from a reliable distributor and check for certification. Also, check your glasses for scratches or other damage — if you find a flaw, ditch them, NASA says.
Skip the crafting on this one
Considering the widespread commercial availability of eclipse glasses, Chou suggested the public just buy them.
"You can't just get solar filter material in small swatches to make your own," Chou said. "It seems to me rather silly to buy a sheet of that stuff and cut it up and put it together on a cardboard holder when, just for a couple of dollars, you can get one that is reliable."
That said, if you absolutely insist on making something of your own, NASA did share a video tutorial on how to use household objects to build a "sun viewer" that can project images of the sun for a group of friends. But that's very different than solar eclipse glasses, which are still necessary to look directly at the sun, according to the video.
What happens to unprotected eyes
Not using certified glasses as directed will damage your eyes — and generally, you should never directly look at the sun, whether it's an eclipse day or not. You can lose your vision in spots, and there's no guarantee you'll ever recover.
As a doctor, Chou said there's very little he can do for such patients.
"Once the person is in your examination room, the best you can say is, 'Yes, you've hurt your eye, and we don't know how long it's going to take to recover your vision — if you're going to recover it at all,'" Chou said. "There have been various attempts to try and mitigate the damage, and they generally don't work."
Directly looking at the sun allows a large amount of light energy to fall directly onto your eyes' photoreceptors. That overloading will cause stacks of tissue containing light-sensitive pigment to break down, releasing "nasty chemical substances" that basically attack the eye. The process stops the eyes from sending visual signals to the brain. If the damage is bad enough, the eye's photoreceptor dies, "leaving you with a small spot that no longer responds to light," Chou said. In that circumstance, the vision will never be regained.
"It's sort of like looking at your smartphone display and finding you have a dead pixel," he said. But because it takes about six to 12 hours for the eye's photoreceptor to die, many people don't know they've hurt their vision until the next day.
"In the time immediately after the eclipse is over, for several hours, the cells continue to provide visual signals and you don't know you've hurt your eye. It's a dead-man-walking kind of situation," Chou said. "But the next day, when you take a look at the bathroom mirror, a clock, the face of a person across the table, suddenly you realize that you can't see their face, that you can't read — that's when you realize something's wrong and you go see someone like me."
Don't let us scare you away from the opportunity of a lifetime
These safety guidelines, while important, shouldn't alarm you to the point of skipping out on the eclipse altogether. Getting a pair of certified eclipse glasses and putting them on is a straightforward way to enjoy the occasion unscathed.
"For a lot of people, this may be the only chance to see a total or a partial solar eclipse," Chou said. "It's a wonderful way of learning how we're connected to what's going on outside of the Earth. Just plainly enjoy it and do it safely."