Overtime pay law changes: How new government rules affect the way your rate is calculated in 2017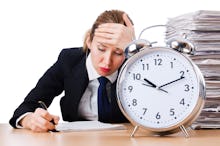 Just when it seemed American workers were about to get a pay bump, the government has made moves to roll back a rule by former President Barack Obama that would have made millions more workers eligible for overtime pay.
Under Obama's "Final Rule," the pay threshold for overtime eligibility for certain white-collar workers would have increased from $23,660 a year to $47,476 a year, making 4.2 million more Americans eligible for overtime pay, according to Department of Labor estimates.
In other words, someone with a $35,000 annual salary who works about five overtime hours per week, for example, could end up losing out on more than $6,000 in annual overtime pay they would have gotten under the Obama rule: Managers and administrative workers who clock more than 40 hours a week and make less than the threshold amount in regular salary were set to get time and a half for any additional hours logged. Obama's rule was set to be the first time since 2004 the pay threshold for eligibility would increase.
But while the rule was originally slated for December 2016, a federal judge issued an injunction after dozens of business groups and states sued.
Many workers — some of whom have already seen raises rolled back as a consequence — still remained optimistic until Wednesday, when the DOL opened the door to more change through a call for public comment (Request for Information or RFI) on how the originally proposed rule by the Obama administration could be revised. Why does that matter?
A small step toward a big change
While the RFI sounds innocuous enough — they're just asking for comments, right? — it's the first step toward rolling back the Obama administration's Final Rule. Dig into the fine print and you'll find this: "The Department is aware of stakeholder concerns that the standard salary level set in the 2016 Final Rule was too high," the RFI reads.
What's more, Labor Secretary Alexander Acosta said in his confirmation hearing earlier this year that he believes the salary threshold for overtime eligibility should be lowered to "somewhere around $33,000," the National Law Review reports. In that case, many cash-strapped Americans — including those earning less than the median annual pay of about $43,000 but above that threshold — could lose out on thousands of dollars a year.
"This request is clearly in the interest of the Trump administration in weakening, if not killing [the Obama] rule," Heidi Shierholz, an economist at the Economic Policy Institute, a liberal think tank, said by phone. "They are putting out the request for information in the hopes of obtaining good information to have the legal foundation to back a weaker threshold for the rule."
The EPI, which has advocated for labor unions in the past, issued a statement opposing the proposed overtime changes:
Not surprisingly, some employer groups are applauding the move. The National Retail Federation (NRF) issued a statement in favor of the move: "Retailers understand that overtime rules need to be updated occasionally but the extreme changes pushed by the Obama administration were too sharp an increase for most businesses to absorb without negative consequences for both employers and employees," the statement reads in part.
Other business groups agree. "It's great to see a Department of Labor finally taking the time to fully evaluate the impact its regulations will have on businesses," Angelo Amador, executive director of the Restaurant Law Center said in a release. And senior government affairs counsel to the Society for Human Resource Management mirrored Acosta's view that the salary threshold proposed by the Obama administration had been raised too high:
Some Republican members of Congress haven't been on board with the Obama rule from the beginning, with Senator Lamar Alexander saying, "That was a bad rule" and asking Labor Secretary Acosta to "show us how to write a good overtime regulation," during an appropriations subcommittee hearing.
How workers can fight back
Getting paid to work overtime continues to be a challenge for many low-wage workers. Employees at Mexican food chain Chipotle and grocery chain Wawa have both sued employers for failing to pay overtime this year, for example.
And while sometimes workers prevail — the luxury apparel store Burberry was ordered in July to pay workers $2.54 million in overtime pay — filing suit is an expensive and lengthy process.
If you want to see better overtime policies for workers, another option is to speak up to the government about overtime abuses while the opportunity is available. Shierholz recommends people submit their comment in the RFI during the 60 day public comment period.
Be warned: All comments will become public record (here) once submitted, "including any personal information provided."
But you could always simply state your opinions: The public is specifically invited to comment on which metrics to use when raising the salary level cap for overtime pay; whether cost-of-living differences across the country should be taken into account; and how changes made by employers in anticipation of the Obama rule have already impacted both employers and employees.
To learn more, here are Mic's guides to your rights to free speech at work, plus your rights as a freelance or contract worker; as an LGBTQ worker; as a female worker seeking equal pay; and your options if you sign a non-compete.
Sign up for the Payoff — your weekly crash course on how to live your best financial life. Additionally, for all your burning money questions, check out Mic's credit, savings, career, investing and health care hubs for more information — that pays off.