'Final Fantasy 15' Comrades Release Date: When and how to play the new online multiplayer mode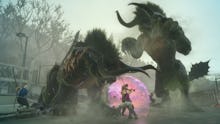 Looking to add more value to your Final Fantasy 15 playthrough? There's a multiplayer component going live soon: the next addition to the Final Fantasy 15 season pass, called "Comrades." You'll be able to give it a spin next week if you're interested in taking your road trip online with a closed test session.
Final Fantasy 15 Comrades: When you can try out the multiplayer test
Beginning August 3 and stretching throughout August 8, players will be able to test out Comrades and its customizable avatars. That's right – you'll be able to make your own Final Fantasy heroes to explore the world with in FFXV: Comrades, which should be pretty entertaining in itself.
The online test will feature three different quests you can play in multiplayer mode, but the full expansion will include much more than that with single-player offerings as well. You'll be able to collect recipes and weapons, level up your custom character, and frolic in the world of Final Fantasy 15 on your own.
If this sounds like something you'd like to do – and it very well should – you can pick up the Final Fantasy 15 season pass still for $24.99. There's still a lot of mileage you can get out of the game, regardless of what you think about the excellent single-player story. And its season pass is certainly going a long way.
More gaming news and update
Check out the latest from Mic, like this essay about the sinister, subtle evils lurking in rural America that Far Cry 5 shouldn't ignore. Also, be sure to read our review of Tekken 7, an article about D.Va's influence on one Overwatch player's ideas about femininity and an analysis of gaming's racist habit of darkening villains' skin tones.