Sam Brownback: 3 things to know about Trump's nominee for ambassador-at-large for religious freedom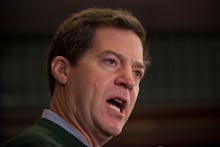 President Donald Trump had an incredibly busy Wednesday. Not only did the commander in chief share a heartfelt letter from a 9-year-old boy nicknamed "Pickle," he also banned all transgender Americans from enlisting and serving in our armed forces.
In the midst of all the uproar surrounding both events (just check out the #PickleTruther hashtag), Trump also quietly announced that he nominated Kansas Gov. Sam Brownback to become the new ambassador-at-large for international religious freedom. Here's what you need to know about the position and about Brownback.
What does the ambassador-at-large for international religious freedom do?
The ambassador-at-large for international religious freedom heads up the Office of International Religious Freedom, whose mission is to promote "religious freedom as a core objective of U.S. foreign policy."
According to the office, it monitors religious persecution and discrimination worldwide, recommends and implements policies in respective regions or countries and develops programs to promote religious freedom.
Each year, the office releases its report on international religious freedom, defines which countries are "countries of particular concern" under the International Religious Freedom Act of 1998, meets with foreign government officials as well as religious and human rights groups, performs outreach to American religious communities and more.
Who exactly is Sam Brownback?
Brownback, 60, has served as the governor of Kansas since he was elected in 2010 following a failed presidential bid. As Politico reported, prior to serving as governor, Brownback was a state representative in 1995 and 1996 and a state senator from 1996 to 2011.
According to a recent poll by Morning Consult, Brownback is the second least-popular governor in the United States, polling only slightly behind New Jersey Gov. Chris Christie.
What does his political history look like?
In recent years, Brownback has focused his efforts on tax-cutting measures, which many believe led to the state's significant budget shortfalls.
However, Brownback has also focused much of his attention on religiously motivated legislation throughout his political career, including becoming a key sponsor of the International Religious Freedom Act of 1998, which created the position of ambassador-at-large.
Brownback also issued an executive order in 2015 protecting the religious freedom of clergy and organizations that opposed the Supreme Court's ruling on same-sex marriage, Reuters reported. "We ... recognize that religious liberty is at the heart of who we are as Kansans and Americans, and should be protected," Brownback said.
Brownback is also adamant that the United States defund Planned Parenthood. In his 2016 State of the State address, Brownback said:
In 2011, I signed legislation stopping most taxpayer funding from going to Planned Parenthood. The time has come to finish the job. Planned Parenthood's trafficking of baby body parts is antithetical to our belief in human dignity. Today, I am directing Secretary Susan Mosier to ensure that not a single dollar of taxpayer money goes to Planned Parenthood through our Medicaid program. I welcome legislation that would enshrine this directive in state law.
Brownback believes life begins at conception, opposes abortion even in instances of rape, voted yes on a constitutional ban of same-sex marriage, voted no on adding sexual orientation to definition of hate crimes and signed an executive order directing that no Kansas state agency shall participate or assist in the relocation of Syrian refugees. Check out Brownback's entire voting record here.