Like his boss, Anthony Scaramucci seems to be a fan of disgraced football coach Joe Paterno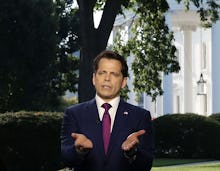 White House communications director Anthony Scaramucci on Thursday quoted disgraced former Penn State football coach Joe Paterno in comments to CNN about "honor" and "integrity."
"Remember Joe Paterno?" Scaramucci asked host Chris Cuomo in an at-times-contentious interview about leaks. "What would he say? 'Act like you've been there before.' Act with honor and dignity and respect and hold the confidence of the presidency in his office."
Paterno — who died in 2012 — was the winningest college football coach in history when he was implicated in the child sexual abuse scandal of his longtime assistant coach, Jerry Sandusky.
Sandusky had for years preyed on young boys via his nonprofit Second Mile organization, and was sentenced to 30 to 60 years in prison for his crimes. Paterno apparently knew about complaints against Sandusky — possibly as early as 1976 — but didn't do anything about it.
President Donald Trump has, like Scaramucci, also spoken fondly of Paterno. During a 2016 campaign stop in Pittsburgh, Trump referenced the late football coach in comments about how much he knows about the "great" state of Pennsylvania, suggesting bringing back the Paterno statue that was removed from the front of the school's football stadium in 2012.
"How's Joe Paterno?" Trump said. "We're gonna bring that back? Right? How 'bout that whole deal?" 
It wasn't the first time Trump had commented on Paterno. In 2012, he took to Twitter to defend the legacy of the Penn State coach, whom he said he knew.
It also isn't Scaramucci's first time mentioning Paterno. On June 5, he tweeted out a Variety story about an upcoming HBO movie about the former Nittany Lions coach starring Al Pacino — a movie, according to IMDB, for which Scaramucci is listed as an executive producer.
In Thursday's interview on New Day, Scaramucci appeared to suggest that Reince Priebus was responsible for White House leaks and compared his relationship with the chief of staff to that of Cain and Abel.
July 27, 2017, 9:54 a.m. Eastern: This story has been updated.