Anthony Scaramucci acknowledges "colorful language" after 'New Yorker' published his wild rant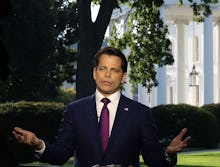 On Thursday, just six days into his new job, Anthony Scaramucci, President Donald Trump's new communications director, found himself the center of controversy following an expletive-laced interview published in the New Yorker.
In the story, Scaramucci took aim at Reince Priebus, Trump's chief of staff, whom he called out as the White House "leaker."
"Reince is a fucking paranoid schizophrenic, a paranoiac," Scaramucci told New Yorker reporter Ryan Lizza. Lizza added that Scaramucci then "channelled Priebus" and said, "'Oh, Bill Shine is coming in. Let me leak the fucking thing and see if I can cock-block these people the way I cock-blocked Scaramucci for six months.'"
He also attempted to distance himself from what he believed to be the media-seeking tendencies of his West Wing colleagues. "I'm not Steve Bannon," Scaramucci told Lizza. "I'm not trying to suck my own cock."
Hours after the interview's release, Scaramucci chalked the entire thing up to having "colorful language" in a tweet, but offered no apologies.
Later in the evening, Scaramucci tweeted again, making it clear he never intended his comments to become public, blaming Lizza for what he considered to be a breach of trust and suggesting a less transparent relationship with the media going forward.
"I made a mistake in trusting a reporter," he wrote. "It won't happen again."
Throughout the New Yorker interview, Scaramucci repeatedly asked Lizza to reveal his source for a story he previously published on a private dinner with Trump, the first lady, Sean Hannity and the former Fox News executive Bill Shine. Each time Lizza refused to share his source. Finally, Scaramucci tells Lizza that everyone in the communications department will be fired and he will be to blame.
"They'll all be fired by me," he said. "I fired one guy the other day. I have three to four people I'll fire tomorrow. I'll get to the person who leaked that to you. Reince Priebus — if you want to leak something — he'll be asked to resign very shortly."
As Lizza explained, Scaramucci was particularly upset about a report published in Politico, which revealed his financial disclosure form and indicated he has assets worth as much as $85 million. At the time of his interview with the New Yorker Scaramucci was apparently unaware that his financial disclosure information was publicly available, so instead he believed it was a direct retaliation effort by Priebus.
"I've called the F.B.I. and the Department of Justice," he told Lizza, adding in the third person, "The swamp will not defeat him. They're trying to resist me, but it's not going to work. I've done nothing wrong on my financial disclosures, so they're going to have to go fuck themselves."
Following the interview, Scaramucci also hopped on a telephone interview, which aired on CNN's "New Day" on Thursday morning. There, Scaramucci continued to point the finger at Priebus as the leaker-in-chief.
"If Reince wants to explain that he's not a leaker, let him do that," Scaramucci said while on-air. "Let me tell you something about myself — I am a straight shooter, and I'll go right to the heart of the matter."
When asked by CNN about his comment saying he and Priebus were "like brothers" Scaramucci replied, "Some brothers are like Cain and Abel. Other brothers can fight with each other and get along. I don't know if this is repairable or not. That will be up to the president."
July 27, 2017, 9:15 p.m.: This story has been updated.