How John McCain killed the Senate health care bill — and what's next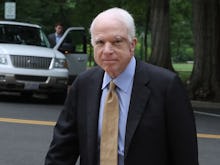 Today: Obamacare is the law of the land — for now.
More: Sen. John McCain became the overnight hero of every progressive. He says he was just keeping the Senate, the Senate.
Even more: President Donald Trump will speak about cracking down on criminal activity from Central America.
Yes, more: Scaramucci vs. Priebus: This time, it's personal. Really personal.
Trump's agenda today: Meeting with his U.N. ambassador. Traveling to Long Island in New York and giving a speech on MS-13.
John McCain took his own advice — and killed the Republican health care bill.
After seven years of promising to repeal the Affordable Care Act, the GOP effort was killed by a senator who could not stomach the Senate passing partisan legislation in the middle of the night.
Sen. John McCain (R-Ariz.) told his colleagues earlier this week to return to "regular order" and strive to find bipartisan compromise. Senate Majority Leader Mitch McConnell (R-Ky.) chose a different path — and McCain rewarded that move accordingly.
"Wait for the show," McCain, whose 2008 presidential campaign famously saw him billed as a "maverick," told reporters as he headed to the Senate floor.
The three Senate Republicans voting against an eight-page partial repeal of Obamacare was the razor-thin margin necessary to stop the bill from advancing. The legislation, released a few hours before the vote, would have repealed the mandates for individuals to have and for employers to provide health insurance. House Speaker Paul Ryan (R-Wisc.) had promised not to take up the bill, instead moving to conference with the Senate to hammer out compromise legislation.
The 49-51 vote was high drama, with McCain holding the Senate in suspense for more than an hour. There were gasps and claps in the Senate as McCain gave a thumbs down on the legislation after taking pressure from Vice President Mike Pence to support the bill.
McCain's "no" vote, along with the opposition of Sens. Susan Collins (R-Maine) and Lisa Murkowski (R-Alaska), will make it difficult for McConnell to pave a new path forward. The "skinny repeal" bill was the Senate's last of three attempts to move a bill from the Senate to conference negotiations with the House. For now, there are no other short-term bills the Senate can consider on health care.
What's next? Democrats and some Republicans have called for committee hearings and negotiations across party lines for weeks. With McCain presumably returning to Arizona for cancer treatment, his colleagues could pursue the bipartisanship he called for earlier this week. McConnell said that was possible early Friday morning.
But a bipartisan health care bill could never win over the House's conservative Freedom Caucus — and it's still a long shot in the Senate.
Protesters outside the Capitol were elated: Groups like MoveOn and CREDO said the "resistance" of thousands of people protesting, making phone calls and more was critical to stopping the bill. They promised to remain vigilant. That came as Senate conservatives remained committed to repeal and replace, promising not to stop the fight to kill Obamacare.
That will have to wait: McConnell and Senate Minority Leader Chuck Schumer (D-N.Y.) both signaled a willingness to move on to consideration of the National Defense Authorization Act — a bill overseen by McCain.
Trump's comment: "3 Republicans and 48 Democrats let the American people down. As I said from the beginning, let Obamacare implode, then deal. Watch!"
News and insight you cannot miss:
"I want to fucking kill all the leakers" — real words from the White House communications director Anthony Scaramucci. Scaramucci also told New Yorker writer Ryan Lizza that chief of staff Reince Priebus is a "fucking paranoid schizophrenic" and that chief strategist Steve Bannon is "trying to suck [his] own cock." Scaramucci's response to the discussion getting published? A promise to no longer trust reporters.
There will be no changes to the military's transgender policies — for now. That's according to top generals speaking Thursday, a day after Trump blindsided them by tweeting he would ban all transgender people from military service.
Sen. Lindsay Graham (R-S.C.) says he's drafting legislation that would prevent the president from firing special counsel Robert Mueller.
I hung out with the Progressive Change Campaign Committee on Thursday. Go inside their candidate boot camp training the next wave of progressive political hopefuls.
Trump will use recent killings by the El Salvadoran gang MS-13 on Long Island in New York to justify further deportations.
House Republicans want a second special prosecutor — but this one would investigate Hillary Clinton.