10 top-paying jobs you can do part time — or from home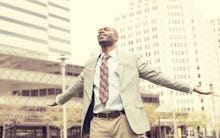 If your company eliminated its telecommuting or flextime program, would you look elsewhere or brave the daily commute? Some workers, especially millennials, would leave their company if a flexible schedule wasn't possible — which could mean bad news for big companies like IBM and Yahoo, who have pulled back on such flexibility.
In fact, at least 64% of millennial workers have the choice of working remotely and 84% report at least some sort of flexibility at work, according to 2017 Deloitte Millennial Survey. Currently comprising a third of the U.S. workforce, millennials are in the driver's seat when it comes to choosing when and how they want to work. "Millennials are likely to move jobs up to 15 times in their career," Claire McTaggart, founder of job matching service SquarePeg, told NBC News. So they may very well be in the mindset of, "'If this company does not provide the benefits of options I'm looking for, I can look elsewhere.'"
What makes a flexible position or remote work so important to millennials? "Flexible working arrangements support greater productivity and employee engagement while enhancing their personal well-being, health, and happiness," participants in the Deloitte study told researchers.
And there's plenty of flexible work out there. "As the gig economy and flexible work grow, part-time jobs for professionals, especially those that allow someone to work remotely, are becoming more common," Brie Reynolds, Senior Career Specialist at career site, FlexJobs, said in an email.
The site analyzed a list of over 40,000 companies that posted jobs in the past six months with flexibility either in terms of hours, length of employment or the ability to work remotely. Then they identified several that paid more than the $21.50 an hour that the average full-time worker earns in the U.S.
It's worth noting that while some let you work from home, others require you to head into the office. What's more, the pay listed for each job is based on a current opening for the specific employer listed. That means you could very well earn more — or less — from a different employer for identical work.
Still want inspiration? Here are the top 10 current job openings on FlexJobs that allow you to work flexibly, ranked by pay.
10. Online human resources generalist
Hourly rate: $24.96
Employer: Achieve Test Prep
Job description: Update the employee handbook, create a complete human resources manual and coordinate training for executives at this academic support organization. This is remote, part-time work for a human resources professional.
9. Course developer in environmental health
Hourly rate: $28.18
Employer: Chamberlain College of Nursing
Job description: Design and develop an Environmental Health and Safety course to be included in the college's Master of Public Health program. The job is remote and candidates must have at least five years of experience as well as a doctorate degree and master's in Public Health.
8. New York City curriculum consultant
Hourly rate: $28.18
Employer: Houghton Mifflin Harcourt
Job description: Deliver reports and coaching for teachers, along with sharing instructional best practices. The experienced candidate will work mostly remotely and part-time for this educational company. A Bachelor's degree is required.
7. Elementary science curriculum writer
Hourly rate: $28.18
Employer: Connections Education
Job description: Evaluate science assignments from elementary school kids enrolled in this virtual learning program. A high school degree and previous experience required for this part-time, work from home position.
6. Middle school science content editor
Hourly rate: $28.18
Employer: Connections Education
Job description: Evaluate class lessons from middle school students at this K-12 virtual education company. Master's degree and one year of related experience is required. This freelance position can be either full-time or part-time and is 100% remote.
5. School psychologist
Hourly rate: $28.29
Employer: VocoVision
Job description: Work with middle and high school students that present mild to moderate speech disorders at this children's therapy telepractice. The psychologist uses a webcam and their own computer to diagnose and assess kids. This part-time, remote position requires a master's degree in psychology and state board certification.
4. Swahili QA linguist
Hourly rate: $29.88
Employer: Appen
Job description: Review and check documents for annotations assigned by Swahili speakers for this short-term, work from home position. Must understand Swahili and have a four-year linguistics degree to work for this global speech and search technology services company.
3. Online visiting professor
Hourly rate: $31.35
Employer: Chamberlain College of Nursing
Job description: Teach graduate nursing students in this part-time, telecommuting position that requires a Doctor of Nursing Practice (DNP) degree (or Master of Science Nursing (MSN) as well as PhD) along with registered nurse licensing in Illinois. Applicants need two or more years of graduate-level teaching experience for this graduate instructor position.
2. Adjunct online design professor
Hourly rate: $31.35
Employer: Grand Canyon University
Job description: Teach an online course for the College of Fine Arts and Production on design using "creative teaching methodologies." A relevant bachelor's degree is required for this part-time, adjunct position.
1. Speech language pathologist
Hourly rate: $38.51
Employer: VocoVision
Job description: Identify and diagnose speech, language and social communication disorders. Position requires a master's degree and up to three years of school-based experience. This is either a full-time or part-time job that can be done 100% remotely through a webcam.
Sign up for the Payoff — your weekly crash course on how to live your best financial life. Additionally, for all your burning money questions, check out Mic's credit, savings, career, investing and health care hubs for more information — that pays off.