Scaramucci said Priebus would be asked to resign. Here are a few rumored replacements for him.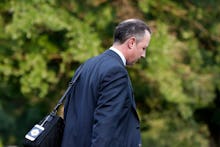 The president could soon be looking for a new right-hand man.
On Friday, long-simmering tensions between White House chief of staff Reince Priebus and newly appointed White House communications director Anthony Scaramucci came to a head after Scaramucci told the New Yorker's Ryan Lizza that — among other things — Priebus would be asked to resign "very soon."
Speculation that Priebus' job was in danger has been rampant for months. But after Scaramucci joined the White House staff despite Priebus's objections — not to mention those of former press secretary Sean Spicer, who resigned on July 21 following Scaramucci's hiring last week — the chief of staff's influence is reportedly at a low point.
According to the New York Times, the Trump clan has turned on Priebus, and with Spicer's exit, he has precious few allies left in the West Wing. Citing sources close to the president, ABC News reported that Trump's "most trusted advisers" are already drawing up a list of possible candidates for Priebus' job.
Trump said he wants a "general" for chief of staff, according to the Times.
One reported candidate is Homeland Security Secretary John Kelly, a retired Marine Corps general. The Times reported that Trump "has focused" on Kelly to replace Priebus, noting that "many of his advisers, however, consider that a bad idea."
Another name being floated by Trump's advisers is Keith Kellogg, a retired army general who is currently chief of staff for the National Security Council, according to ABC. Kellogg served briefly as acting national security adviser during the time between Michael Flynn's resignation and H.R. McMaster taking on the role.
Trump's advisers also reportedly named a few candidates without stripes on their shoulders, according to ABC. One is former Republican Speaker of the House Newt Gingrich, an early and vocal supporter of Trump and some of his most reactionary policy proposals.
But Gingrich has already criticized Scaramucci's brash, take-no-prisoners style, calling him "more pugnacious than effective" on the Laura Ingraham Show, as CNN reported.
Insiders suggested to ABC that two other current members of the Trump administration were in the running to replace Priebus: Kellyanne Conway, an adviser to the president, and Mick Mulvaney, the director of the Office of Management and Budget.
Aides and advisers to Trump gave a few other names to Axios' Mike Allen. Among them were House Majority Leader Kevin McCarthy, a steady pro-Trump presence in Washington, and Gary Cohn, Trump's economic adviser and former Goldman honcho — who's generally thought to be at odds with the White House's nationalist faction led by Steve Bannon.