The 5 major people Donald Trump fired since taking office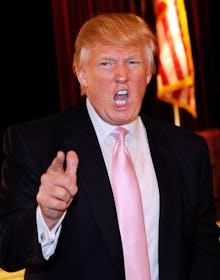 On Friday evening President Donald Trump announced via Twitter that he replaced White House chief of staff Reince Priebus with Homeland Security Secretary John Kelly. It's the fifth major shakeup for the White House staff since Trump took office. Keep reading to learn more about who Trump has let go in just a few months and why. (Note: This list does not include the many, many, many resignations that have occurred since Trump took office in January.)
Reince Priebus
As NPR succinctly put it, "Priebus was the last of the high-profile RNC staffers to exit the West Wing."
The one-time Republican National Committee Chairman was named Trump's chief of staff just days after the 2016 presidential election. As Mic previously reported, Trump and Priebus had a tumultuous relationship from the start, however, Priebus still played a very large part in getting the real estate mogul elected and helped convince leaders within the party to support their candidate through the election.
Priebus was fired, the New York Times reported, because Trump no longer believed he was strong enough to lead in the White House.
Priebus was also unceremoniously removed from his position mere hours after Anthony Scaramucci, the White House's new communications director, gave an expletive-filled interview to the New Yorker where he both lambasted Priebus for what he thought at the time were illegal leaks and also foreshadowed his exit from the White House.
James Comey
In May, Trump said "you're fired" to FBI director James Comey, allegedly due to his mishandling of the investigation into Hillary Clinton's email server.
"I cannot defend the director's handling of the conclusion of the investigation of Secretary Clinton's emails, and I do not understand his refusal to accept the nearly universal judgment that he was mistaken," Deputy Attorney General Rod Rosenstein wrote at the time. "Almost everyone agrees that the director made serious mistakes; it is one of the few issues that unites people of diverse perspectives."
As Business Insider reported, Comey is just the second FBI director in history to be fired by a president.
Michael Flynn
Though technically he resigned, Michael Flynn was pushed out of her position as national security adviser in February, after serving in the position for less than a month. Flynn was pushed out after he allegedly mislead Vice President Mike Pence about meetings he had with Russian ambassador Sergey Kislyak.
But, to make matters even more confusing, just days after pushing Flynn out Trump came to his defense in the press saying during a joint press conference with Israeli Prime Minister Benjamin Netanyahu, "I think Gen. Flynn is a wonderful man. I think he's been treated very, very unfairly by the media — as I call it, the fake media, in many cases."
Sally Yates
A mere 10 days into his presidency, Trump took aim and fired Acting Attorney General Sally Yates. She was relieved of her position for refusing to uphold his executive order banning travel to the United States for people from seven Muslim-majority nations.
"My responsibility is to ensure that the position of the Department of Justice is not only legally defensible, but is informed by our best view of what the law is after consideration of all the facts," Yates wrote in a letter. "In addition, I am responsible for ensuring that the positions we take in court remain consistent with this institution's solemn obligation to always seek justice and stand for what is right."
In response, the the White House said in an official statement, "The acting Attorney General, Sally Yates, has betrayed the Department of Justice by refusing to enforce a legal order designed to protect the citizens of the United States. This order was approved as to form and legality by the Department of Justice Office of Legal Counsel. Ms. Yates is an Obama Administration appointee who is weak on borders and very weak on illegal immigration."
Preet Bharara
Bharara, former U.S. Attorney for New York's Southern District, was ordered to resign by the Trump administration in March, along with 45 other holdovers from the Obama administration, Mic reported.
In a tweet Bharara explained, "I did not resign. Moments ago I was fired. Being the U.S. Attorney in SDNY will forever be the greatest honor of my professional life."
Bharara had been asked to stay on by Trump during the transition period, then he was let go just a few months later.