Here are three times — this week —Trump's comments have been rebuked by the groups he was addressing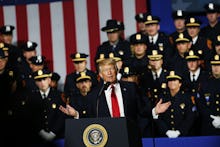 The International Association of Police Chiefs issued a statement Friday to clarify its position on President Donald's Trump's most recent tacit endorsement of police brutality.
It's the third time in less than seven days an organization has been forced to distance itself from words expressed by the president.
"Managing use of force is one of the most difficult challenges faced by law enforcement agencies," the IAPC wrote in a Friday blog post. "Law enforcement officers are trained to treat all individuals, whether they are a complainant, suspect or defendant, with dignity and respect. This is the bedrock principle behind the concepts of procedural justice and police legitimacy."
Suffolk County Police
The Association of Police Chiefs' statement was issued not long after Trump's Friday afternoon speech in Suffolk County, New York. The president was speaking to police in Long Island, who are dealing with increased gang violence fueled by the local rise of the notorious Latin street gang MS-13.
"When you see these thugs being thrown into the back of a paddy wagon, you just see them thrown in, rough, I said, 'Please don't be too nice,'" Trump said. "Like when you guys put somebody in the car, protecting their head, you know, the way you put [your] hand, like don't hit their head, and they've just killed somebody. ... I said, 'You can take the hand away, okay?'"
Many of the police in attendance laughed and applauded.
The Suffolk County Police Department issued the following statement via Twitter in response to Trump's comments.
"As a department, we do not and will not tolerate roughing up of prisoners," the department posted on its Twitter account.
That last statement faced scrutiny Saturday, as news agencies uncovered recent police misconduct allegations and cases against the Suffolk County PD.
On Thursday, the FBI arrested and charged Suffolk County Officer Christopher McCoy with "depriving an arrestee of the right to bodily integrity," for allegedly forcing a woman being detained at the county police precinct to perform oral sex on him.
In November, ex-Suffolk County Police Chief James Burke was sentenced to 46 months in prison for assaulting and covering up the attack of a "defenseless suspect," according to the New York Daily News.
Scouts honor
On Monday, Trump encouraged a bunch of children at the Boy Scouts of America's latest four-year jamboree to boo Hillary Clinton, the news media and former President Barack Obama in a partisan political speech.
"By the way, just a question," Trump asked the Glen Jean, West Virginia, crowd. "Did President Obama ever come to a Jamboree?"
He also jokingly threatened to fire his Health and Human Services Secretary Tom Price if he and Republican leaders in the U.S. Senate couldn't get an Obamacare repeal and replace bill passed this week. (They couldn't, thanks in large part to Republican Sen. John McCain.)
On Thursday, Michael Surbaugh, chief scout executive of the Boy Scouts of America, issued a statement apologizing for Trump breaking with decades of tradition and turning his apolitical organization into a partisan stage prop.
"For years, people have called upon us to take a position on political issues, and we have steadfastly remained nonpartisan and refused to comment on political matters," Surgough said."