Philando Castile supporters outraged by Minnesota police board's refusal to name program after him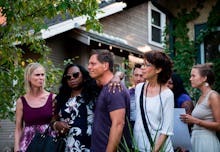 Social activists in Minnesota's Twin Cities metro area are fuming after state law enforcement officials refused to rename a police training program in Philando Castile's honor.
Castile was fatally shot by former St. Anthony, Minnesota, police officer Jeronimo Yanez during a July 6, 2016 traffic stop.
On July 6, the one-year anniversary of Castile's death, Gov. Mark Dayton suggested that the Minnesota Board of Peace Officer Standards and Training rename its $12 million Peace Officer Training Assistance Fund in Castile's honor as a minimal peace offering to Castile's family and the local community.
But the board voted 8-2 on Thursday to retain the fund's original name, according to the Minneapolis Star Tribune.
"The people who are making these critical decisions, they don't care about Philando," Minneapolis NAACP president Jason Sole said on Saturday. "They don't care about his legacy. They want him to not be remembered."
Lt. Bob Kroll, president of the Minneapolis police union, tried to justify the board's decision by pointing out even police killed in the line of duty have never been honored by renaming a state police fund after them.
"We need to leave politics out of policing," Kroll said, according to the Star Tribune.
That didn't satisfy local Black Lives Matter activist Chantyll Allen, who said the decision was further evidence that police aren't interested in doing right by the community when they are guilty of wrongdoing.
"[Castile's mother] Valerie deserves to have her son's name on part of the changes that will happen in the future if that is what will heal her," Allen said. "This is just white supremacy showing up the way we expect it to."
Mic reached out to Kroll and the Police Officers Federation of Minneapolis and will update the story if we hear back.
Yanez was acquitted of manslaughter charges in June for killing Philando Castile and received a $48,500 severance payout after a dissolution agreement with his former employer.
Castile's mother told reporters naming the fund after her son was the least the law enforcement board could do.
"My son didn't get justice," Valerie Castile said, according to the Star Tribune. "Did we go through the fundamentals of the judicial system? Yes we did. But the system failed us. And now all we ask is for this training bill to be named after my son because of the manner in which he was killed."
Sole said it's up to the people of Minnesota, whose outrage was renewed after the shooting death of Justine Damond, to fix what he feels is a broken system.
"They're going to continue to slap us in the face if we continue to put it on them to get it right," Sole said. "They're racist law enforcement officials and we have to continue to see them that way. We shouldn't be surprised. This is their nature."